Somayeh Esmaillu is a dedicated and driven businesswoman whose ambition helped her immigrate to Canada, complete a diploma program, and open her own business – all within three years.
Somayeh became a landed immigrant in January 2013 and was admitted to Ashton College shortly after.
"It was wonderful to be admitted during my first year in Canada because I know not all new immigrants are able to begin their education so quickly, so I felt very lucky that I was able to begin building my career as soon as I arrived."
In Persia, Somayeh was self-employed and worked in the travel and tourism agency, where her fluency in three languages (Persian, Spanish and English) served her well. "When I came to Canada I knew I wanted to work in an industry where I could continue to interact with people from different cultures and backgrounds, so the IMCD [Immigration Consultant Diploma Program] was a great option for me."
After completing Ashton's full-time IMCD program in July 2013, Somayeh began working as a Program Assistant for ISSofBC, a non-profit organization that serves the settlement, training and integration needs of newcomers from all over the world.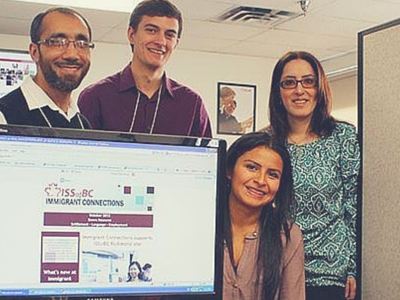 Somayeh (far right) poses with co-workers at the ISSofBC office.
Somayeh completed Ashton's ICCRC Exam Prep Course in October 2013 and after passing the Immigration Consultants of Canada Regulatory Council's Full Skills Exam, she became a Regulated Canadian Immigration Consultant. Somayeh then founded her own consulting firm, Silk Road Immigration and Investment Consultants Inc. with an office located just down the road from Ashton College at Canada Place. "Silk Road Immigration provides Canadian immigration services to a wide array of clients from across the world who would wish to make Canada their permanent home. Because I know how lengthy the process of immigrating to Canada can be, Silk Road is focused on getting clients to Canada in the shortest possible time."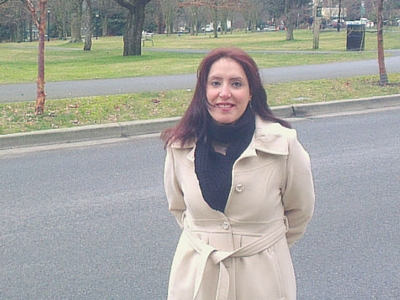 When reflecting on her time at Ashton, Somayeh recalled the dedication and professionalism of her instructors and Ashton staff.
"I think the experienced instructors are the most important factor that would distinguish Ashton from other colleges offering similar programs."
"[The program] was wonderful for me because my program adviser (Carolyn Williamson) was very kind to me, she guided me through the application process and supported me throughout the program. I was overwhelmed in the beginning because I was a brand-new immigrant and I was starting a new academic program (and career) so having Carolyn there to guide me through the process was incredibly helpful."
"This diploma changed my position here in Canada as a new immigrant. Many new immigrants to Canada have to apply for transitional jobs that they may be overqualified for, but I got my license and started my own business so quickly; it was a dream come true."
Subscribe
By entering your email below, you agree to receive articles from the Ashton College blog. We will not send you promotional materials or any other information. You can unsubscribe at any time.