It has almost one year since Express Entry Immigration system had its first draw in January 2015. Together with Nevena Djuricic and Peter Perram, Regulated Canadian Immigration Consultants with over 20 and 30 years of experience in the field, respectively, we looked at the system's successes, discussed its drawbacks and made predictions regarding the future of the program in 2016.
Express Entry Overview
Express Entry is a new immigration system designed by Citizenship and Immigration Canada (CIC) to ease immigration for economic immigrants that are likely to succeed in Canada. Express Entry processes applications under the Federal Skilled Workers Program, Federal Skilled Trade Program and Canadian Experience Class.
Candidates are required to go through the two-step process. Firstly, they create an Express Entry profile to be entered into a pool of candidates. This is where applicants provide basic information about themselves to ensure they meet the immigration criteria. They also are required to register with the job bank if they do not have an offer of employment in place.
Secondly, successful candidates receive the invitation to apply. To determine success, the candidates are ranked against each other: they receive points based on age, education, language proficiency, Canadian work experience, foreign work experience, and a combination of those factors. Extra points (600 out of possible 1,200) are given for a Labour Market Impact Assessment (LMIA)-approved job offer or a Provincial Nomination. Successful candidates receive an invitation to apply and have 60 days to submit all the necessary documents.
Comprehensive Ranking System
Express Entry system launched in the beginning of 2015, with the first draw being held on January 31st. As of December, 2015, there were 23 Express Entry draws, with a little over 30,000 invitations issued. On average, draws were conducted twice a month, although no one can guarantee that the trend will continue.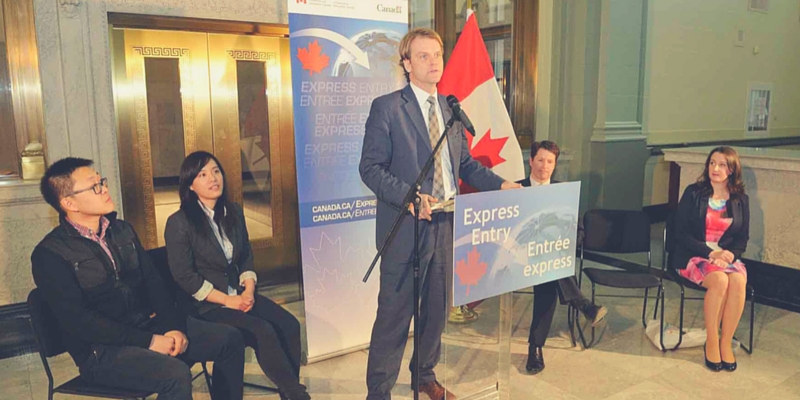 Then Minister of Citizenship and Immigration Chris Alexander welcomes some of the first permanent residents to Canada under Express Entry on April 10, 2015.
One of the biggest questions throughout the year was the number of points necessary to become a successful candidate. The first four rounds required the candidates to score above 600 points on the Comprehensive Ranking System (CRS), which would imply they needed to have either a job offer or a Provincial Nomination. However, in the subsequent rounds, the minimum score fell below 600 and only jumped back once, on May 22, during the longest gap in between the draws.
Presently, the majority of applicants in the pool fall within the 350-450 point range. The minimum score required to be selected from the pool has been within the 450-489 point range on 18 out of 23 draws, which is just above the average score in the pool. Throughout the second half of the year, around 1,500 people were selected from the Express Entry pool every draw.
Benefits of Express Entry
Express Entry has received a great deal of positive feedback from immigration professionals regarding its potential. The most cited benefits of the system are the following:
Express Entry has the ability to shorten the application process. After receiving the invitation to apply and submitting all the necessary documents, the majority of candidates only have to wait for a maximum of six months to hear the final decision on their application, according to the CIC website.
There is more structure and clarity in the immigration process: all the criteria are listed on the website and are open to the candidates to look through and see if they qualify. Candidates can estimate their comprehensive ranking score and see what kind of skills and experiences they need to gain in order to receive an invitation to apply for permanent residency.
Express Entry is designed to help individuals determine what they need to succeed in Canada. As Peter Perram put it, "not every immigrant has the necessary skill set to adjust to the new environment; however, without having made the commitment to immigrate to Canada, they won't be successful. The new system helps potential immigrants who are committed to making Canada their home to determine the areas that would make them a successful immigrant."
The new system aims to better reflect the needs of the Canadian society for economic immigrants. Express Entry aims to ease immigration process to those professionals who are in demand in the country.
Both Perram and Djuricic agree that Express Entry is not a perfect system; however, they both recognize that it has a potential to be a great tool for economic immigrants.
Drawbacks of Express Entry
Despite many successful applications processed through Express Entry, the system is far from being perfect. There were several technical difficulties with online document submission this year. Furthermore, the job-matching between the potential candidate and the employer is not fully functioning yet, and the job bank needs to be updated more frequently.
There are two main aspects of Express Entry that put certain immigrants to Canada at a disadvantage.
International students. Under the old immigration system, students were clearly identified as someone who had a great potential to contribute to Canada economically, and were provided a lot of support for immigration purposes. Express Entry system, on the other hand, makes the students less likely to succeed in their immigration application. According to Djuricic, "international students are probably exactly the kind of immigrants Canada wants: educated, with Canadian experience, has created links, friendships and ties in Canada, has paid taxes to Canada for many years – yet, this new system disadvantages them and makes it more difficult for international students to remain in the country permanently." Recent graduates often lack Canadian and foreign work experience, and are less likely to get a LMIA-approved job offer for the entry level positions. Even though the students can meet and exceed the education criteria, they now have to compete against all the other applicants with more skills and experience than recent graduates have, which puts them at a disadvantage.
People over 30. Another bias in the Express Entry is for individuals over the age of 30. CRS gives the most points to the individuals in their mid-twenties, and it drops quite drastically for people younger and older than that. "Unfortunately, this means that there can be 40-year-old people with a Master's degree and years of foreign work experience that will not come close to being drawn from the Express Entry pool if they don't have a job offer or a Provincial Nomination".
Although Express Entry can be a great immigration tool, we hope to see revisions the Express Entry system in the near future to account for their age bias and to make it more accessible to the recent graduates.