Chrystia Freeland is the Member of Parliament representing the University-Rosedale (Ontario) riding. On November 4th, 2015, Chrystia was appointed to the Cabinet of Canada as Minister for International Trade.
With the Trans-Pacific Partnership trade agreement dominating international news, Freeman has been thrust into the spotlight. She recently made headlines of her own after an appearance on Bill Maher resulted in a spirited debate with the titular host. Read on to find out more about Freenman's life before politics and what challenges she's faced during her first month in cabinet.
Background
Born in Peace River, Alberta, Freeland studied at Harvard where she received an undergraduate degree in Russian history and literature. She continued her studies on a Rhodes Scholarship at Oxford University. She went on to hold a series of positions at the Financial Times, including Deputy Editor, UK news editor, Moscow bureau chief, Eastern Europe correspondent, Editor of its weekend edition, Editor of FT.com, and US Managing Editor. Freeland also served as the Deputy Editor of The Globe and Mail from 1999 – 2001.
Freeland has written two books – Sale of the Century: The Inside Story of the Second Russian Revolution (2000) and Plutocrats: The Rise of the New Global Super-Rich and the Fall of Everyone Else (2012). Plutocrats, a New York Times best-seller, won both the National Business Book Award and the Lionel Gelber Prize in 2013. The book was the basis for her 2013 TED talk on income inequality.
Political Experience
Freeland won the Liberal nomination on September 15, 2013, and was elected to parliament on November 25, 2013, defeating Linda McQuaig of the New Democratic Party. She served as the Liberal Party of Canada's trade critic for two years.
With the federal electoral redistribution for the 2015 federal election Freeland chose to seek election in newly created University-Rosedale electoral district rather than seek re-election in the adjusted Toronto Centre electoral district. She was elected to this seat on October 19, 2015.
Position on the Trans-Pacific Partnership
During the recent federal election campaign, the Liberals had promised to review the TPP pact, which was seven years in the making and had faced criticized for "secretive" negotiations throughout the process. The text of the agreement was released November 5th, one day after the Trudeau cabinet was announced and sworn in.
At the recent APEC Summit in Manila, Freeland made her first direct post-election comments regarding TPP ' and, specifically, the Conservative's promise to provide a $4.3-billion, 15-year compensation package to Canadian dairy farmers. The compensation package was put in place to reduce the impact of a 3.25-per-cent opening to foreign products entering this country once the TPP takes effect.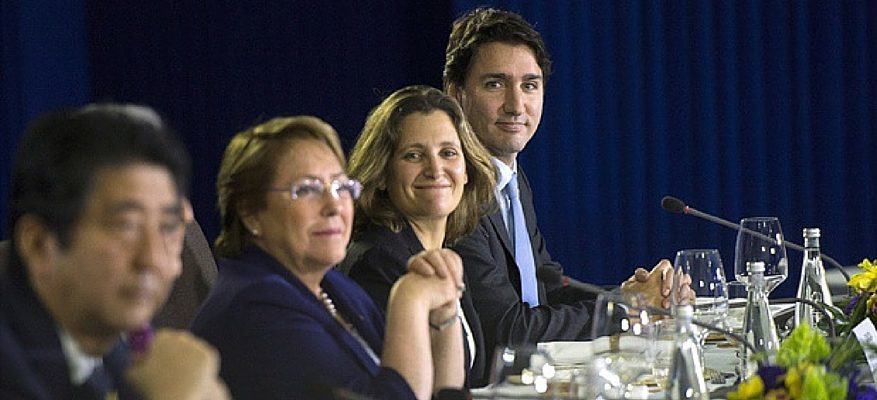 Chrystia Freeland sits beside Prime Minister Justin Trudeau as they take part in a Trans-Pacific Partnership meeting at the APEC Summit in Manila, Philippines. THE CANADIAN PRESS/Sean Kilpatrick
"We appreciate the importance of compensation to affected sectors," Freeland told reporters in Manila.
"It would be very inappropriate for us to commit to specific packages given that we're actually reviewing the agreement overall…however, the TPP was not negotiated by our government, it was negotiated by the previous government and our job now is to carefully review the text and consult."
With eleven other countries expected to go through a similar review process, agreement by all signatories is not expected for several years, by which time there could be another change of government- in this country and in others.
Head to Head With Bill Maher

Comedian and commentator Bill Maher and Freeland clashed when Maher claimed on his television show, Real Time with Bill Maher, that there is a small percentage of Muslims who support ISIL and practices like honour killings and forced marriages.
Maher started the segment off with the statistic that 56 per cent of Americans believe the Syrian refugees have values that are at odds with their values.
He went on to quote U.K. Prime Minister David Cameron who said "too often we have lacked the confidence to enforce our values for fears of causing offence", a comment Freeland voiced her disagreement with by stating of Canada:
"I think it is incredibly important, particularly now, after the Paris attacks, particularly now with ISIL raging around the world, to stand up for real diversity. And to say our diversity is our strength."
The discussion continued while Freeland fought back against the other guests on the show, including Ben Domenech of the Manhattan Institute, and Maine Senator Angus King, who supported some of her views.
Freeland has appeared in the past on Maher's show and has also appeared on a number of other American shows as a panelist.
International Trade
Ashton College's International Trade diploma and certificate programs endow you with the skills, knowledge and preparation necessary to succeed in the exciting and dynamic field of International Trade.
Subscribe
By entering your email below, you agree to receive articles from the Ashton College blog. We will not send you promotional materials or any other information. You can unsubscribe at any time.