This program offers students the opportunity to obtain a thorough understanding of bookkeeping techniques and practices and how to apply them in both manual and computerized environments. Emphasis is placed on the development of bookkeeping skills through the use of practical, hands-on training techniques. The Bookkeeping Certificate program is offered in both in-class and online formats.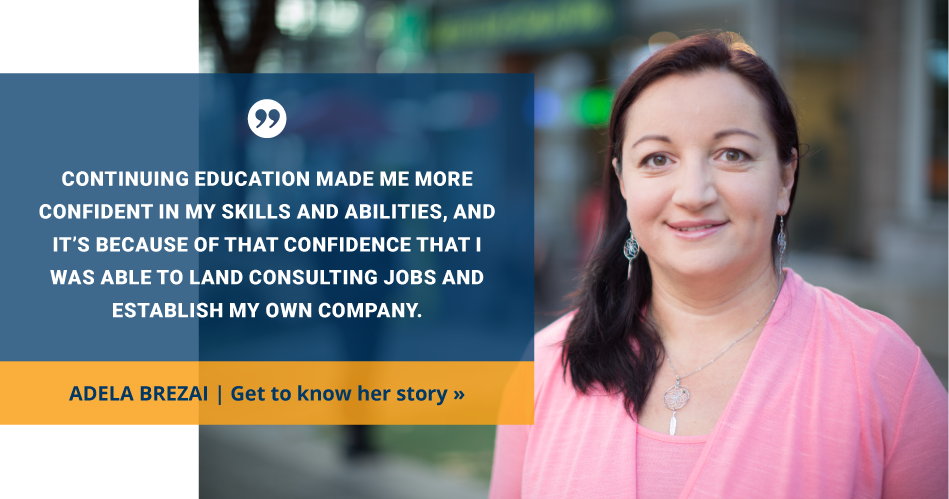 Ashton's Bookkeeping Certificate has been accredited by the Canadian Bookkeepers Association (CBA). Graduates of this program can apply for membership of CBA to become Registered Professional Bookkeepers with CBA. The CBA is a national non-profit association established in 2003. The CBA advances bookkeeping professionals in Canada and furthers the bookkeeping industry as a whole.
Admission Requirements
Applicants must be:
High school graduates or 19 years or older at the start of the
applicant's program or course; and
Proficient in English

(please see

policy 1002

)

.
Program Formats and Duration
Formats
This program is offered both in-class and online. The in-class format is delivered from our Abbotsford campus. The online format uses Adobe Connect and Google Apps to deliver interactive learning through live webinar sessions. Students interact with their instructors and other students Monday to Friday for two hours between 10.30a.m. to 12.30p.m. (PST). This interaction provides ample opportunity to ask questions, seek clarification and work through examples. The live sessions are also recorded allowing students to access the materials at any time after the sessions or to review sessions which may have been missed.
Duration
244 hours including exam hours.
Upcoming Dates
Abbotsford
January 30, 2017 – July 21, 2017
Online
January 9, 2017 – April 13, 2017
Course Descriptions
CB 01 Microcomputer Applications Software (36 hours)
This introductory course emphasizes computer concepts, Internet and e-mail skills, and software packages that enhance effective business communications. This course is taught using Microsoft Office software: Word (word processing), Excel (spreadsheets), PowerPoint (presentations), and Access (databases). This course assumes no prior knowledge and will benefit user novice.
CB 02 Financial Accounting (44 hours)
This course provides an overview of the financial reporting process. It concentrates on the recording process and the production of financial statements. Perfect for non-accounting majors, accounting topics are presented in small, manageable segments, using clear language and plentiful visuals. The course introduces simple tools to allow students to analyze financial information and explain the information contained in the financial statements in their future roles as managers, investors, or other users of financial accounting information.
CB 03 Computerized Bookkeeping 1 (40 hours)
Prerequisites: Students must pass and complete CB-02 before moving to CB-03 or CB-04
This course is designed to introduce students to Sage 50 Accounting. Highlights include an overview of the interface followed by a detailed look at creating a company, defining company settings and entering historical data. Coverage of the core modules in Sage 50 Accounting as well as the most common transactions, periodic processing and reporting are also discussed. Students will have an overview of the setup and use of payroll and inventory, followed by a detailed look at how to use projects, time slips and time and billing, budgets, multicurrency and departmental accounting. This is followed by a look at advanced reporting, database management, year-end, customizing forms, and concludes with the topic on users and security.
CB 04 Computerized Bookkeeping 2 (32 hours)
Prerequisites: Students must pass and complete CB-02 before moving to CB-03 or CB-04
This course is an introduction to QuickBooks. It provides hands-on instruction regarding how to set up QuickBooks for use as a system for small businesses. This course will teach students how to use many of the features available in QuickBooks.  Participants will learn about the types of information they need to track in their business and will become familiar with the most common tasks required, as well as the more advanced functions of the software.
CB 05 Cost Accounting (32 hours)
This course is intended to provide students with an in-depth knowledge of fundamental cost accounting techniques for use in a manufacturing and service environment. Emphasis is placed on product/service cost determination using Job Order Systems, Process Costing systems and Standard Cost practices. Budget topics are also addressed.
CB 06 Taxation (28 hours)
This course provides students with a basic understanding of the Income Tax Act and regulations to determine the Income Tax Liability as it applies mainly to individuals and businesses. The course allows students to learn how to prepare a simple tax return for an individual resident of Canada and to use the knowledge gained from this course to solve problems relating to the taxation of individuals resident and non-resident of Canada. Students will also study GST and HST.
CB 07 Payroll Administration (32 hours)
The course is a comprehensive and practical approach to federal and provincial legislation relating to the payroll function. This course provides an overview of the requirements for processing payroll calculations and administrating the payments to employees, government agencies and other parties in compliance with laws, regulations and contractual arrangements. Students will learn how to prepare hourly, salaried and commission payroll. They will also learn payroll law, record maintenance, pay cheque and statement preparation, T4 preparation, and how current source deduction rules affect payroll preparation. WCB, Revenue Canada Taxation, Records of Employment and Stats Canada reporting are covered, as well as Employment Standards.
Technical Requirements
Those enrolling in online program formats should note:
Students should have a webcam and headset, or a microphone and headphones to participate in webinars. High-speed internet access is also required. To view the full technical requirements for Adobe Connect, please click here.
Users will have the option to install the Adobe Connect add-in which is not required to join a meeting as a host, presenter, or participant. It is needed to support screen sharing and PowerPoint (PPTX format) file sharing. Having the add-in will result in the meetings opening in a larger pop-out window rather than within a browser tab. The latest version can be installed on the Adobe Connect Downloads and Updates site.
Students can also access the webinars through their mobile or tablet device by downloading the Adobe Connect mobile app. To see a list of frequently asked questions with answers and detailed walkthrough guides, please click here.
Make sure to run a test to ensure your device will run Adobe Connect.
Students should have regular access to a computer, laptop or smart phone to access all class materials.
Fees
Tuition fees for this program are due and payable at least 30 days prior to the cohort start date. Students with guaranteed funding arrangements will be exempt from this requirement provided that they produce documentary proof at least 30 days prior to the cohort start date.
All formats of the program are eligible for Canada Student Loans, other forms of government funding, and bank financing. However students are responsible for making their own funding arrangements and are advised to contact the relevant funder well in advance of the start date to make an application.
Application and tuition fees for this program are as follows:
Application fee: $150 (Domestic Students) or $200 (International Students)
Tuition fee (Domestic): $3,250
Tuition fee (International): $3,550
More information regarding application and tuition fees can be found on our fees webpage:
Note: Tuition fees do not include the cost of the required textbooks.