The Liberal government of Canada has revealed the details of its plan to relocate and resettle 25,000 Syrian refugees by February 2016.
In order to ensure the success of the plan, Prime Minister Trudeau and John McCallum, the Minister of Immigration, Refugees and Citizenship, have exhorted Canadians to take responsibility for welcoming and providing hospitality to the 25,000 refugees who will arrive within the next few months, and recent estimates released by Statistics Canada illustrate that Canadian provinces have committed to honouring the government's call to action. Ontario is expected to take in 10,000 refugees, British Columbia is estimated to host 3,500, and even Prince Edward Island will play a role, settling an estimated 400 refugees, or 0.24% of its population. However, these preliminary estimates show that no resettlements are anticipated in the Yukon, Northwest Territories and Nunavut, the three northern territories that constitute a massive 39% of Canadian land area but only 0.003% of its population. The estimates may ultimately be amended because the Yukon government has pledged to support at least two refugee families, but both the Northwest Territories and Nunavut have stated that resettlement will not be part of their contribution to the humanitarian effort.
So why are no Syrian refugees expected to resettle in northern Canada? The Canadian territories are large and sparsely populated regions, and while many northern communities are quite small, they also have a hospitable and supportive reputation. Indeed, Premier Christy Clark of British Columbia has suggested that Syrian refugees would find a happier welcome and more dedicated support in the small communities away from large metropolitan centres like Vancouver and Toronto, and commentators have also noted that remote communities would benefit more from the economic and cultural contributions of refugees than the established cosmopolitan cities. However, while the northern communities of the Yukon, Northwest Territories and Nunavut have expressed welcome, support and sympathy for Syrian refugees, there are three major explanations for why it is unrealistic to expect that refugees will settle extensively in the Canadian territories.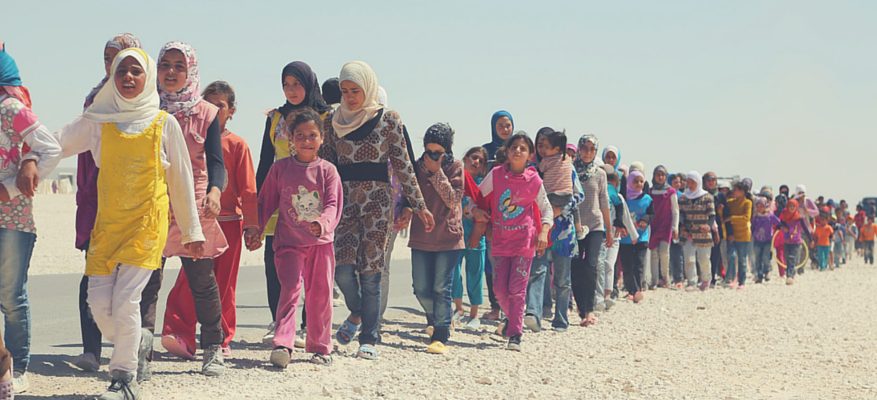 Lack of Social Networks
After arriving in Canada, many immigrants and refugees alike depend upon the support of family members, relatives, friends and other members of their ethnic community during the first period of their integration into Canada. A strong support network can help immigrants and refugees adjust to life in Canada by aiding with challenges such as getting a job, finding a school, learning English or even navigating the transit system. As Syrian refugees begin to arrive in Canada throughout the remainder of 2015 and into 2016, they will benefit tremendously from the support of the ethnic Syrian diaspora that has been established in cities like Toronto, Montreal and Vancouver for decades. Unfortunately, in the northern Canadian territories, the social networks and supports available to Syrian refugees will be extremely limited relative to those of metropolitan Canada.
In each of the three Canadian territories there are less than 100 Muslims, let alone ethnic Syrians, and the limited scope of relational ties, social networks and a familiar religious and ethnic community in the north means that new Syrian refugees are more likely to settle in larger Canadian cities with a more established diaspora.
Unstable Economy
The Canadian north does not have the population, agricultural and industrial base required to develop and sustain the comparatively robust economy of southern Canada. While there are a wide range of sometimes controversial explanations for this reality ranging from climate to colonialism, the fact of the matter is that the vast majority of immigrants and refugees are more likely to settle in regions where they believe they have the best opportunity to succeed in the Canadian economy. As of the most recent statistics, the unemployment rate in each of the territories is higher than the national average of 6.8%, with the Yukon just above the threshold at 6.9%, the Northwest Territories at 7.6% and Nunavut at double the national average with 12.3%. Compared to provinces like British Columbia and Ontario, where unemployment is at 5.8% and 6.5% respectively, it may be more difficult for newcomers to find a steady occupation in the north. Moreover, while incomes in the north can be remarkably high due to lucrative boom-bust resource extraction, Syrian refugees may be more attracted to the stable, developed tertiary economies of southern Canada. It is very possible to secure a livelihood in northern Canada, but refugees may consider themselves more likely to succeed in the metropolitan economies of southern Canada.
Insufficient Infrastructure
Perhaps the most significant explanation for why refugees are settling in southern Canada and not the north is that the three territorial governments of the Yukon, Northwest Territories and Nunavut have very limited capacity to settle refugees within their jurisdiction. The Yukon government has committed to settling only two refugee families, but Doug Graham, the Yukon Minister of Education, has noted that "if we take two families … on a per capita basis, that would be more than most provinces would take." The Northwest Territories and Nunavut have both expressed their support of the Liberal resettlement plan, and The Northwest Territories government donated $25,000 to the United Nations High Commissioner for Refugees in September, and the territory is currently "exploring other ways to help because we do not already have a role in refugee settlement services," according to then-Premier Bob McLeod. Nunavut has also contributed $25,000 in support of refugees to the Canadian Red Cross, but Nunavut Premier Peter Taptuna perhaps described the situation best for all three Canadian territories by stating that "due to a number of challenges in Nunavut … our government doesn't have the capacity to sponsor Syrian refugees," though "should a community group or family choose to sponsor Syrian refugees, they will be welcomed with open arms." While the three territorial governments have all expressed support for the refugee resettlement program, they simply do not have the capacity to settle refugees at a similar rate to larger Canadian provinces like Ontario and Quebec.
Though the governments and communities of the Yukon, Northwest Territories and Nunavut have expressed welcome and support for the incoming Syrian refugees, resettlement in these vast northern regions is unlikely because the territories present limited social, cultural and economic opportunities for refugees compared to southern Canada. The estimates projecting little to no refugee settlement in the northern territories reflect the cultural and economic disparity between northern and southern Canada, and they fail to account for the tremendous support and sympathy that northern governments and communities have expressed for Syrian refugees.
Subscribe
By entering your email below, you agree to receive articles from the Ashton College blog. We will not send you promotional materials or any other information. You can unsubscribe at any time.