So often, when it comes to hiring, we hear the phrase "I can teach someone the skills, but I can't teach them how to fit into our business – I hire for fit." It's a common refrain for managers because fit is important in an already well-running team. But what if it were possible to hire someone who had the skills AND was a good fit? Wouldn't that be ideal?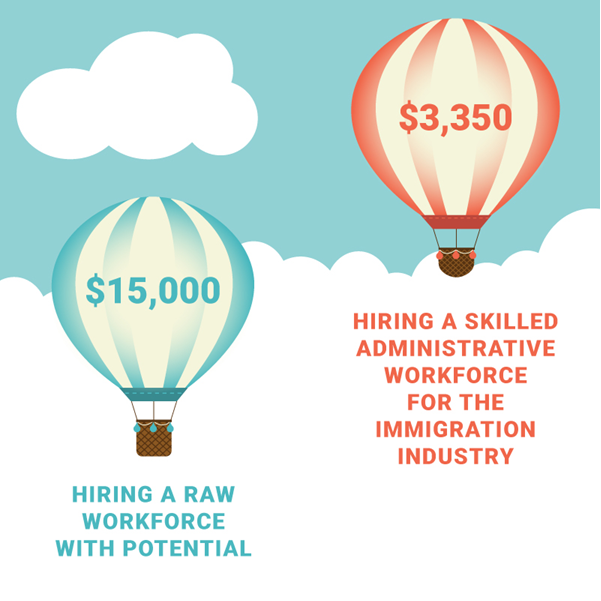 In many different fields, like running an immigration consulting practice, this kind of hiring is the way to go. It may take time to find the right person who can check both the fit and skill boxes, but in the end, the wait is worth it – both for financial reasons as well as for stress-reduction reasons. Sure, there's bound to be stress in the short term while you wait for the right person to apply, especially when you're a busy immigration consultant, but with the right hire, this stress will soon be history.
Consider the hiring process, not just for those growing their immigration business, but also those looking to replace someone:
First, you need to consider the qualities of a successful immigration consultant. What areas are busiest? Where can an assistant provide the greatest help? If this is a replacement hire, consider where the last employee excelled, where they fell short and what you wish they'd had the skills to do. What qualities do you need to take your business to the next level?
Second, think about the personality that works best in your firm. While it's standard that immigration consulting practices are detail-oriented environments and all employees need to be good at dealing with a wide range of individuals, respecting privacy and understanding documentation, do you think of your firm as being lively and fun? Or is it more quiet and head-down in nature? Get to know the personality of your firm and you'll start to sense the personality traits of a new hire.
Third, look to what you want in education or skills training. This isn't the time to think small. You have no idea who might be looking for their next great job, so create a sky's the limit kind of list that has everything you want. What immigration courses would you like a new employee to have behind them? Do you want them to have specific immigration specialist training?
Fourth, create your "want ad". Put the must haves into your listing and keep the list of the "nice-to-haves" on hand as these will be what helps you make the right choice at the interview stage. You might even consider asking the school that does the immigration training you prefer to post the job for students soon to graduate from the program.
Fifth, review resumes, conduct interviews and hire the best candidate for your immigration consulting firm. You want to set aside at least an hour for each interview. It's your best time to get to know an individual and learn about the personality fit aspect. You'll also want to talk to them about their immigration consulting courses. Did their training include the things you need them to know? If they went to the education institution that you prefer, ask what they liked about it. Get to know what parts of the job they are really excited about and which they don't care for. Ask the questions that help establish not just the ability to fit into the environment but also to do the job.
How does this process save you money when it sounds so lengthy? Simple. You hire the candidate who is best for the job and with a background that matches what you need them to do and they can begin doing the job immediately. Think about how busy you are in your practice day in and day out. Can you imagine spending half of your time (or more) standing beside a new hire, watching them, explaining things to them, not to mention explaining all the aspects of the business? That's likely a nightmare to even consider!
By hiring someone who has taken immigration consultant training, you eliminate the majority of the background training as well as much of the skills training. Whether it's someone with an immigration consultant diploma who wants to work as an assistant or it's someone who has completed an immigration legal assistant certificate course, you'll want to be sure they come from a school that teaches the most necessary skills that allow you to throw a few documents on their desk if not the first day, at least in the first week.
This might include an understanding of file management and communication process, knowledge of the basic immigration principles and procedures that includes documentation around various visas and records, understanding of the industry and an appreciation of the laws around the immigration process. By having this knowledge and practice in place before joining your firm, you save a great amount of time in personal training and avoid the need to send the new hire to separate training courses for employees to bring them up to speed.
Determining if the employee is the right fit personality-wise is up to you, but a review of candidate resumes and where they took their immigration training will give insight into whether they have the background training and education you need. Taking the time to find the right person may take longer, but in the end this will save time, money and stress. You won't be looking for a different employee a few months down the road when the first one didn't quite work out. Waiting allows for a more objective view while hiring and ultimately makes the choice easier and better.
Your time is valuable and in a thriving immigration consulting practice, your time is what makes you money. Look at your next hire of an immigration consultant assistant in the same light. Bring someone on board who not only is a fit for the organization, but also brings the skills and education to the table so that they are productive as quickly as possible – saving you time, money and stress.