We know that both in-class and online learning models can offer a great educational experience if the right tools are used in the right way. The question is, how can we transform an online program into an immersive, effective and engaging learning experience for students?
At Ashton, we ask ourselves this question every day. What tools we can use? How can we improve what we are already doing? This article, put together through the contributions of online faculty and staff members, explores the value of online education, the online tools we are using, and how to effectively use them.
For more information about the online programs and courses offered at Ashton, check out our Ashton Online portal.
Online Education and What it Offers
Before discussing the tools, let's look at why you may want to consider online learning for yourself, and what it can offer you.
Flexible learning experience
Cutting the distance
Experience with technology
Many students at Ashton are busy professionals who also work, volunteer or have a family to look after. Online learning gives those on a tight schedule a great opportunity to upgrade their credentials and become more competitive in the job market, while still staying on track in their busy lives.
Online programs offer interaction with people from different provinces, time zones and even countries, allowing the sharing of experiences across cultures and nationalities. If you live outside Vancouver, online education helps you take advantage of courses offered in the city without having to transit.
It is hard to deny the fact that technology is playing a larger role in our lives, be it in education, communication or the workplace. Learning how to use and work with online tools effectively can be beneficial for students in their profession, whichever career path they decide to take.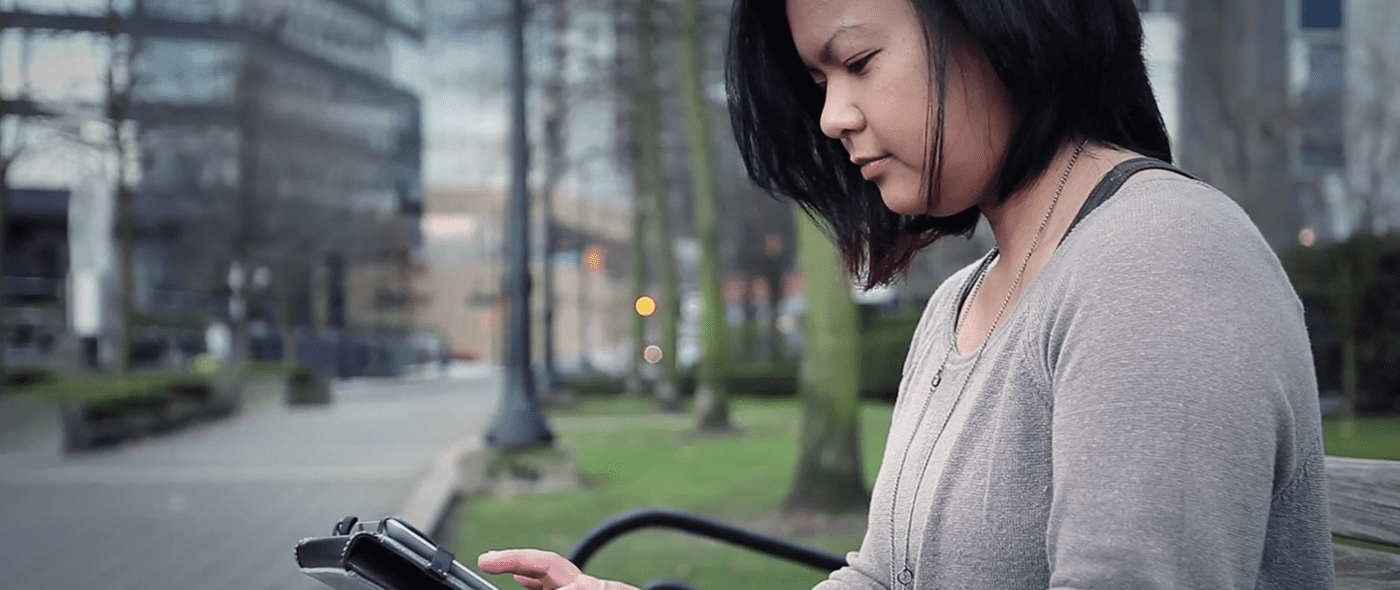 Indicators of Interactive Learning
There are several key factors that we believe make the online environment both informative and effective.
Firstly, video content and the ability to discuss videos. Video as a media type has a naturally engaging quality and can highlight certain topics and deepen students' knowledge of lecture materials.
Secondly, communication – especially sharing personal experiences. Both students and instructors have interesting and informative stories to share, and communication around these stories makes education more fun and engaging for both parties.
Online Tools at Ashton College
Ashton College focuses on providing a informative and interactive online learning experience. To achieve that, we have focused on live online learning: synchronous learning. We take advantage of progressive tools to ensure effective communication and interaction among the faculty and the students.
Adobe Connect
Adobe Connect is the main tool we use for interactive webinars in the online classroom. It enables instructors to go through the material and communicate with students, as well as giving students the ability to ask questions. Adobe Connect includes various interactive features, including video presentation, document/screen sharing, real-time video discussions and live polling. We also want students to participate fully in these live sessions, so we give them the opportunity to present back to their instructor and classmates, helping them improve presentation skills and teamwork.
We like Adobe Connect for it's flexibility. Multiple layouts and options mean the classroom can be arranged dynamically according to the content that is being shared.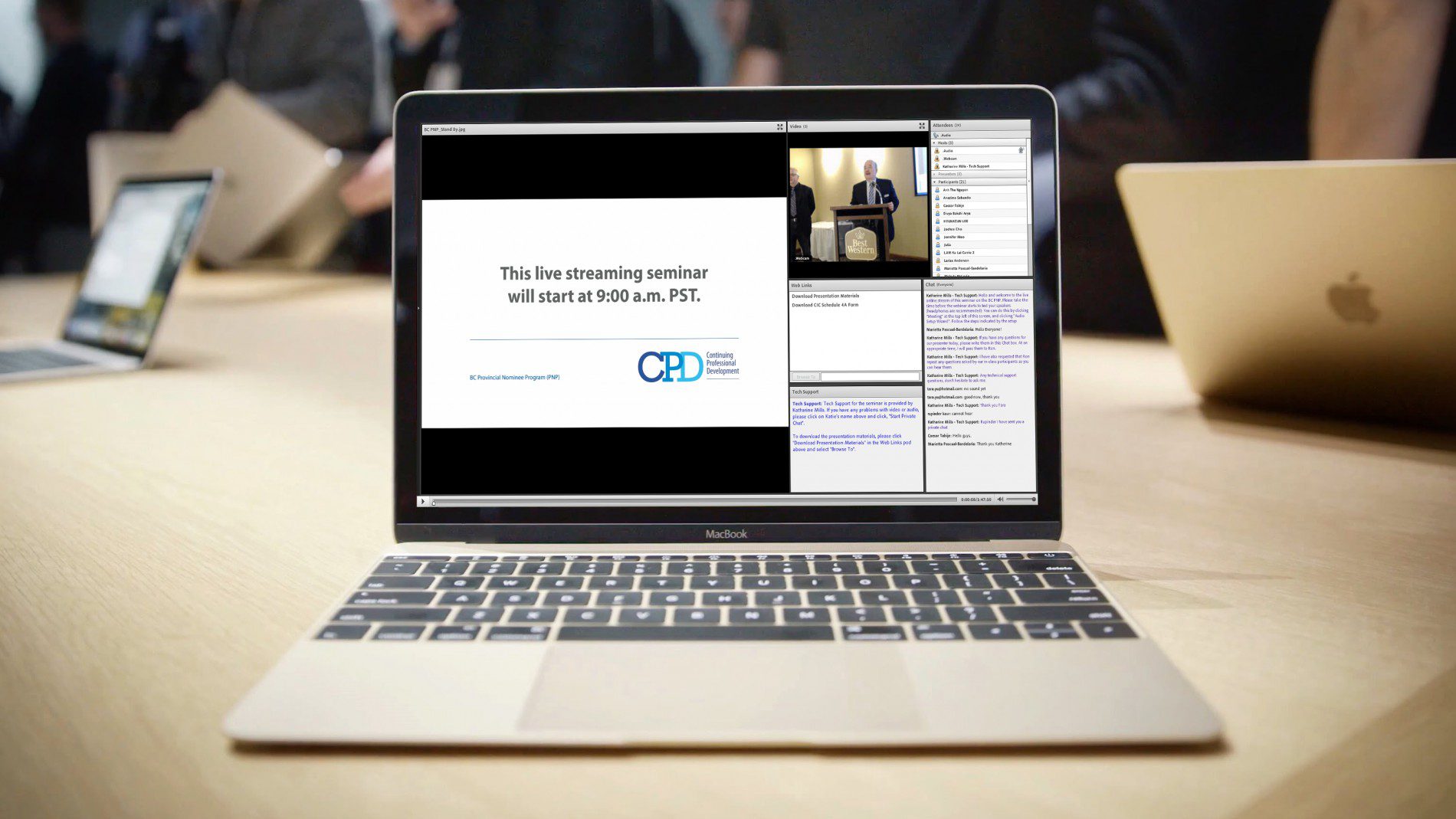 A look at Adobe Connect
Google Classroom
Ashton College has recently made a transition from Google Sites to Google Classroom, which was a great improvement for both students and faculty members. Classroom allows real time instructor feedback on assignments and a centralized way in which to share student grades.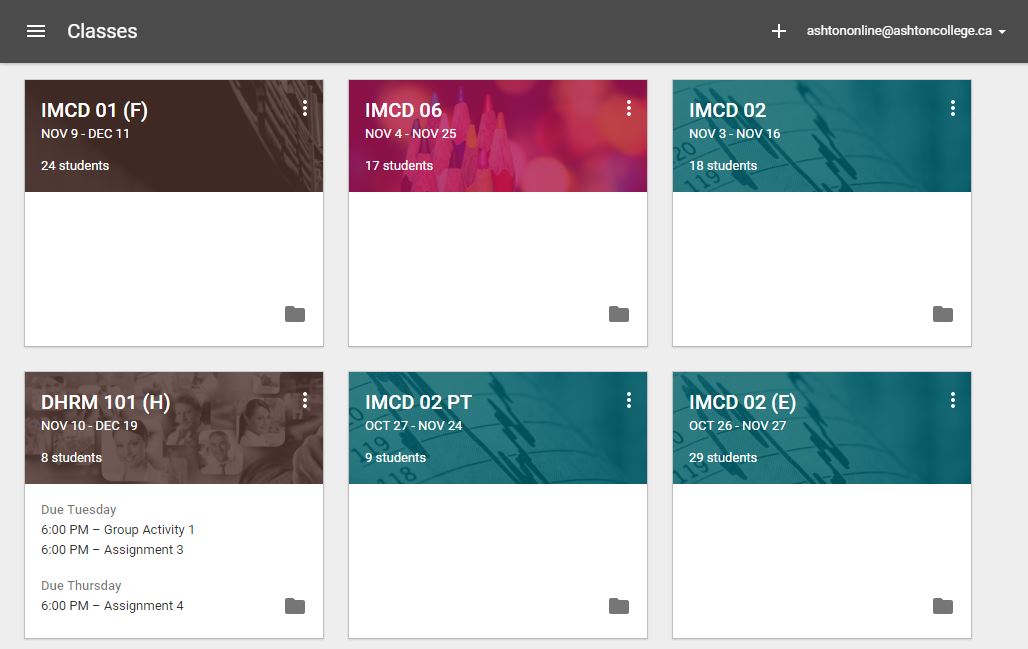 Google Classroom is clear and engaging
We love the accessibility of Google Classroom. Students receive class updates, reading materials and assignments as email notifications or directly to their mobile devices through the Classroom app. The platform reminds us of an educational version of Facebook with it's focus on social learning.
Online Learning: The Future
The transition of learning into the online environment is something that we strongly believe in at Ashton. We are expanding the online platform into some of our in class programs, making materials available online and facilitating out-of-class discussions and sharing between students and faculty.
We know that effective learning is interactive. Our students are encouraged to talk, present in class, ask questions, comment on videos and each other's presentations, and even throw in an occasional joke or two. This, as well as our dedication to continous improvement in the tools and methods we use, makes our brand of online education just as great – if not better – than learning in-class.
Special thanks
… go to Nevena Djuricic, Amr Shokry and the Ashton Online staff for their insights.