Sylvain Charbonneau is a Communication and International Trade Manager and Educator with over 15 years of experience.
He graduated from Ashton College in January of 2012 with a Diploma in International Trade. Sylvain is now a member of Ashton's International Trade faculty. We met with Sylvain to discuss his journey from student to instructor.
Why did you decide to pursue a career in International Trade?
I've been very lucky to have a variety of work experience prior to coming to Vancouver, both in terms of organizational size and structure, and in the line of work I did. After a few years, I switched to independent contractual work, because I always like to have some flexibility and freedom.
It so happened that I was asked to help one of the companies I was working for to create, and then implement an action plan to overhaul their logistics, transportation and communication. I was actually familiar with transportation because of my family history: my father used to work in that field, and both my grandfather and my uncles owned a group of businesses.
When I moved to Vancouver, I contacted companies for logistics and transportation, and because of my prior experiences I ended up doing a contract dealing with transportation from BC to California. I also had a major project with businesses in Africa and Europe (a lot of head offices of the company in Africa were based in Belgium and France). I worked both in West and Central Africa to help them with project planning, marketing research and establishing business relationships. In fact, I was in charge of receiving their delegates here in Canada. The goal was to welcome them to the company and establish good relationships, because relationships are an essential part of business collaboration – especially for some cultures. I also traveled abroad with the president of the company and other delegates, helping them with business relations – it was very interesting.
When I returned to Vancouver, I realized: because of my line of work and my experience, I already had practical knowledge of international trade, transportation and logistics – but I didn't have the academic training that was recognized by FITT (Forum for International Trade Training). I realized that it would be good for me to have that academic background – it'd be a stronger addition to my Master degree and my experiences.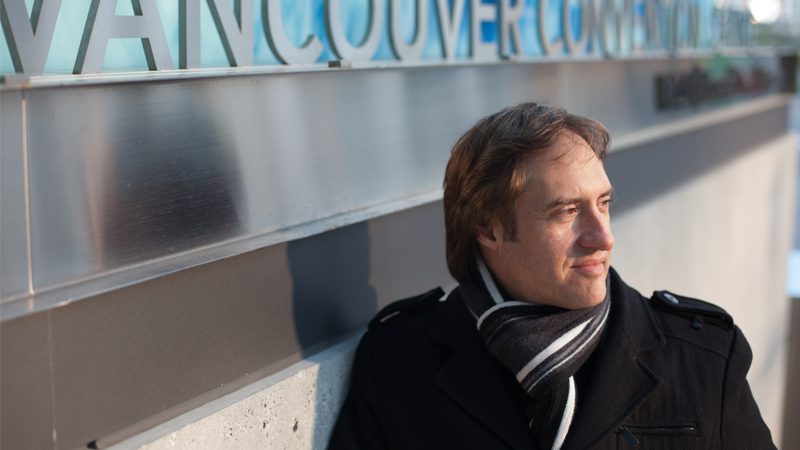 Why did you choose Ashton College?
I always wanted to go to Vancouver. I visited Vancouver a long time ago, and I said to myself: "this is a place I really want to go back to; I want to go live there". I spent some time working on different contracts at first; but then I started to search for the place to study International Trade and discovered that Ashton College had that program. The schedule was good for me, and I had a good feeling about the college, so I decided to study here. I chose an intensive five month program; and I was very lucky to meet my wife here, during the time that I studied the program.
What did you do after graduation?
After graduation, I began teaching at a university and continued doing some part-time contracts and travel for work; but later my wife and I had a daughter. I love to travel, but it's good to be around more when you have a family and a baby.
So I was looking for a place where I could have a flexible schedule. I still kept in contact with Ashton, and when I heard that they were looking for an International Trade instructor, I thought it was a great opportunity for me: it was part-time, and I could continue to do other activities that I had.
I'm glad I got the opportunity to work at Ashton College. I had good relationships with people here when I studied, and I am grateful to them, both as a service provider for my education and as an employer. Now, I am happy to provide education to other students.
I also teach at another institution in the evening, and still have a few contracts and projects that I do. Besides that, I take care of my daughter – and there is another child on the way, so in May 2016 we'll have another family member.
It's a balance of academic environment and practice and right now I'm very happy with that balance.
What do you find the most rewarding about your job?
I love to share my passion, and I like to interact with the students, especially with international students. The international component is very important for me. I like to interact with people who come from many different countries and cultural backgrounds, and to exchange different perspectives with them. I feel that I learn a lot from them.
Do you have any advice for Ashton students?
They say 'work hard, play hard', meaning that there are times to have fun and there are times to study – but sometimes you can have fun even when you study. So be passionate about what you choose to study, and work hard to achieve your goals. Ashton is doing a good job making classes interactive and I think it's a good environment to help students students share their own experiences and teach them to be more open-minded.
I also believe that people in International Trade are very lucky, because it's a field where the opportunities are growing, and it's very important to have knowledge of both different cultures and international business. I think students will have a big advantage if they have a diploma in International Trade.