Keisuke Akamatsu is currently enrolled in Ashton's Diploma in International Trade Management (DITM) program.
A native of Japan, Keisuke graduated with a Bachelor of Science degree from Shizuoka University in 2011. He then went to work as an Accounting Clerk at the Iwatani Corporation, a trading company in Osaka. After over three years in this role, Keisuke decided it was time to expand his horizons, and made the decision to travel to Canada to build experience working in a foreign country that he could use in his future career back in Japan. "I chose Vancouver because of its natural beauty, and because I knew I would have the opportunity to improve my English and then study business. When I first arrived I enrolled in an ESL program and after successfully completing it, I enrolled in the DITM program at Ashton."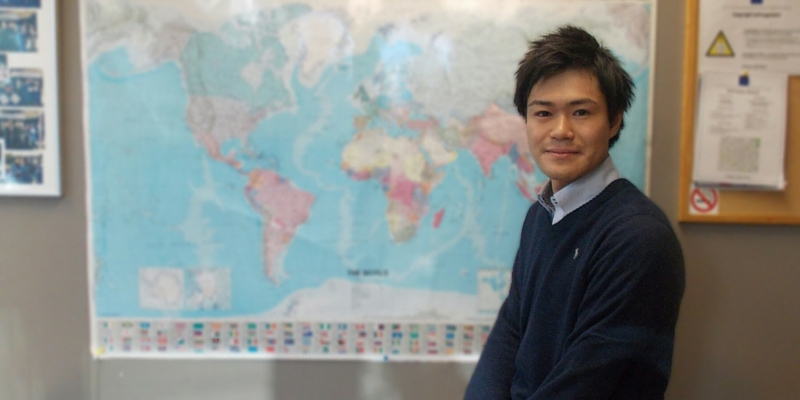 The yearlong program, which includes a five month practicum, is delivered in alliance with the Forum for International Trade Training and the Canadian Professional Sales Association and is designed to prepare graduates for a career in the trade industry. "Because my background is in finance, many of the program subjects were foreign to me. Some courses are project-based and gave me the opportunity to put everything that I had learned during the program into practice."
"I conducted full market research, including SWOT analysis, I completed research on tariffs and logistics, and created a business plan. Prior to this project, I had a vague idea of what I wanted to do, but the course forced me to consider the specifics and helped me realize everything that goes into establishing an international business."
After completing the academic portion of the program, Keisuke secured a practicum position with Kanatani Trading, an import-export business, part of which includes managing imports for Windbell Motorcycle in North Vancouver. Keisuke recalls his experience job-hunting in Vancouver as being a difficult time. "In my opinion there are three ways to find a job. First, there's the traditional method, which is to scour job boards and sent out resumes electronically, which can be discouraging when you don't receive any type of response. Second, you can network and try to establish connections and build your professional community. This is a method I have used, and continue to use in Vancouver, volunteering with the Vancouver Japanese Business Association and attending professional events whenever possible. Finally, Ashton students have the advantage of being able to approach Cairrie [Williamson, Ashton's Student Affairs Officer] for assistance. I met with Cairrie and she was able to set up a number of interviews for different positions which led me to my current practicum."
Keisuke will complete his practicum in May and hopes to take his experience back to Japan to help companies in his native country establish trade links with Canada.
"There are so many companies in Japan that lack the marketing skills and business education to capitalize on their products or ideas. I would like to serve as a resource and a connection between Japan and Canada, and to use what I have learned from my career and from Ashton to help them succeed."
Subscribe
By entering your email below, you agree to receive articles from the Ashton College blog. We will not send you promotional materials or any other information. You can unsubscribe at any time.