Ashton's Immigration Consultant Diploma (IMCD) is offered to meet the education requirements for practising immigration consultants. Our longstanding accreditation by the Immigration Consultants of Canada Regulatory Council (ICCRC) and multiple success stories from our alumni demonstrate the quality of our curriculum and faculty.
This program is designed to equip individuals with knowledge about immigration law and policy, immigration classes and temporary status, refugees and rules of professional conduct, as well as their practical application.
Ashton's Immigration Consultant Diploma program is recognized as one of the leading immigration practitioners' programs in Canada today. Producing over 200 graduates in its first year, the program has since evolved to accommodate the growing demand. Today, the IMCD program is offered in-class at Vancouver and Abbotsford campuses, and LIVE Online via interactive webinars.
With the introduction of IMCD Online in 2011, our program has reached students from all over the globe, giving them an opportunity to attend classes, interact with instructors and make connections with their classmates in real time.
Accredited by ICCRC
This program is accredited by the Immigration Consultants of Canada Regulatory Council (ICCRC) and meets the academic requirements for full membership with the ICCRC. For more information on becoming a Regulated Immigration Consultant, please visit the ICCRC website.
Industry Partner: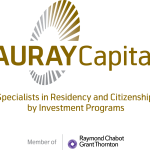 Sign Up for Open House on April 30th, 2019
Overview
Admission Requirements
Program Formats and Duration
Upcoming Dates
Course Descriptions
Technical Requirements
Fees
The Immigration Consultant Diploma Program is structured into ten courses that train students to assess, advise and represent individuals, groups and entities in the immigration process. Students learn how to strategize, prepare and present oral and written submissions and supporting documents, as well as to advocate with government bodies on behalf of clients.
Career opportunities:
Law firms
Government agencies
Colleges & Universities
Border services agencies
Multi-national corporations
Immigration consulting firms
Immigration consulting practice
Non-profits that help temporary status immigrants and refugees
Regulated Canadian Immigration Consultant
This program is accredited by the ICCRC and meets the academic requirements for full ICCRC membership. Upon completion of the requirements and conditions laid down by the Immigration Consultants of Canada Regulatory Council (ICCRC), individuals become Regulated Immigration Consultants who can provide their services to the newcomers seeking help in navigating immigration issues in Canada. This may include obtaining advice or assistance with permanent residence applications, temporary residence and visa applications or refugee claims.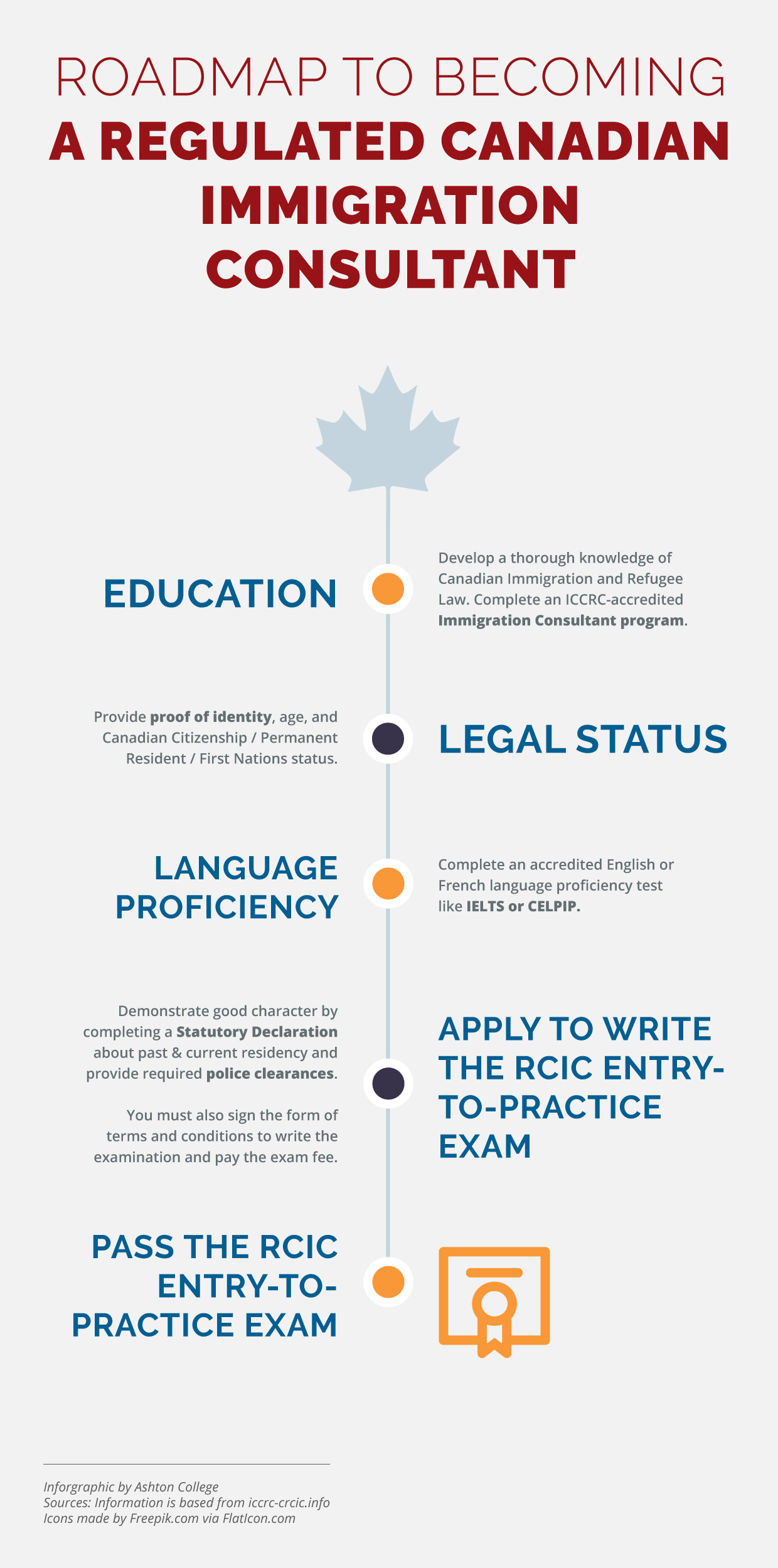 Mobile users, please click here to view.
Applicants must meet the following criteria:
University or college graduates (graduates of a two- or three-year program); or individuals with two years of post-secondary education or equivalent; or individuals with a minimum of two years of related work experience; and
English Language Proficiency Requirements.
For more details, please see our Admissions Policy.
Prior Learning Assessment:
It is the policy to grant credit for a course on the basis of prior learning acquired through formal studies or professional, work or life experience (please see Policy on Prior Learning Assessment and Transfer Credit.)
International Students:
Please note that international students are not eligible to write the ICCRC exam until they obtain their Canadian Permanent Residency or Canadian Citizenship. International students can still take the Immigration Consultant Diploma to meet the ICCRC education requirement.
Formats
This program is offered both in-class and LIVE Online.
In-class: delivered from our Vancouver and Abbotsford campuses;
Online: delivered LIVE Online through face-to-face instructor-led webinars using Adobe Connect and Schoology.
Duration
500 hours.
Full-time: 20 hours of instruction per week, 4 hours per day;
Part-time: 8 hours of instruction per week, twice a week.
Abbotsford
Full-time:
September 9, 2019 – February 28, 2020

Classes will be Monday to Friday from 6:00 pm to 10:00 pm
Vancouver
Full-time:
June 17, 2019 – December 10, 2019

Classes will be Monday to Friday from 1:00 pm to 5:00 pm
July 8, 2019 – January 14, 2020

Classes will be Monday to Friday from 8:30 am to 12:30 pm
Part-time:
Start dates coming soon. Please contact us to be added to the waitlist.
LIVE Online
Full-time:
September 3, 2019 – March 16, 2020

Webinars will be Monday to Friday from 6:00 pm to 8:00 pm PST
Part-time:
July 2, 2019 – June 18, 2020

Webinars will be on Tuesdays & Thursdays from 5:00 pm to 8:00 pm PST
IMCD 01: Principles of Immigration/Administrative Law and Policy and Inadmissibility
This course provides an introduction to the following areas of immigration:
Immigration and Refugee Protection Act;
History of immigration to Canada, including the historical and constitutional views;
Constitutional and judicial framework;
Structure, regulations and the policy-making process of Immigration, Refugees and Citizenship Canada (IRCC);
Sources of Immigration Law and trade agreements;
Principles of administrative law and its implication on the immigration matters (IRPA);
Procedural fairness, fundamental justice, the burden of proof and standard of proof, and remedies in administrative law.
During this course, students will study procedural fairness; fundamental justice as the principle of the rule of law that dominates administrative law, and consequently immigration law; types of the administrative tribunal, jurisdiction and the rule of procedures of different tribunals. Students will develop an understanding of standard review and relevant case law, the burden of proof and standard of proof, and remedies in administrative law. Students will also study Canadian citizenship.
IMCD 02: Family Class, Humanitarian and Compassionate, and Canadian Citizenship
During this course, students will develop an understanding of the relevant sections of the Immigration and Refugee Protection Act and Immigration and Refugee Protection Regulations associated with Family Class. Students will understand the categories under Family Class, who can be sponsored and who is eligible to sponsor a member of the Family Class. Students will also learn about the difference between a legal and a genuine relationship when considering a Family Class application.
This course also examines the requirements to process adopted children and in-Canada permanent residency applications. This module will cover the family member category and spousal/dependent children category separately, as each category is governed by different requirements and procedures.
IMCD 03: Economic Classes, Quebec Immigration Program, and the Provincial Nominee Programs
The purpose of this course is to train students in the application of the requirements, criteria and procedures to process applications for economic classes. Participants will study the relevant sections of the Immigration and Refugee Protection Act, Immigration and Refugee Protection Regulations, and the relevant IRCC operation manuals pertaining to Economic Classes. Students will examine the different categories under the economic class in detail.
Students will be introduced to an Express Entry System and applicable Comprehensive Ranking System. Individual sub-modules will be dedicated to Canadian Experience Class, Federal Skilled Worker PR category, Start-up Visa category, Quebec Immigration programs, and Provincial Nominee Programs for the respective provinces. During the course, other economic categories including self-employed persons will be studied.
IMCD 04: Temporary Residents
During this course, students will have the opportunity to explore and analyze the different types of temporary resident visas and permits, rules, requirements, applications, and procedures for the temporary categories. Students will study the complete process of obtaining temporary resident entries and status, and how IRCC visa posts assess, issue or refuse TRV/P applications. Students will learn the procedures for temporary resident status extensions, change of status, and restorations when applicants are in Canada.
Students will examine various types of visitors' visas, super visas, study permits, and work permits. Different types of open work permits, religious worker permits, NAFTA/GATS categories, and work holiday and young professional programs under the Ministry of Foreign Affairs will also be examined.
IMCD 05: Refugee Classes
This course is about the history of refugees in Canada and the relevant sections of the Immigration and Refugee Protection Act (IRPA), Immigration and Refugee Protection Regulations, and other documents pertaining to refugees and protected persons. Students will learn more about the rules, policies and procedures of the Refugee Protection Division (RPD) of the Immigration and Refugee Board and the Refugee Appeal Division (RAD), refugee claimants, convention refugees and other persons in need of protection, the options of Pre-Removal Risk Assessment, possibilities of Humanitarian and Compassionate applications, as well as all aspects & issues concerning removal orders.
This course also focusses on the philosophy and objectives, statutory requirements contained in the IRPA and the Regulations and selected decisions of the Federal Courts of Canada and the Supreme Court of Canada, another impact on the Refugee Convention.
During this course, participants will:
Examine the rules, policies and procedures of the RPD of the Immigration and Refugee Board and the Refugee Appeal Division, and learn a variety of skills for representing refugee claimants;
Understand the difference between convention refugees and persons in need of protection as prescribed in IRPA S96 and S97;
Students will examine options and viability of the Pre-Removal Risk Assessment (PRRA) for refugee claimants upon negative decision by the RPD;
Analyze aspects and issues concerning Humanitarian and Compassionate Applications and the restrictions applied to refugee claimants from the Designated Country of Origin (DCO) and Designated Foreign Nationals (DFN);
Examine the different types of removal orders and how to overcome removal orders;
Apply research, development and implementation techniques in representing clients at hearing at IRB including preparation of disclosures submissions to RPD and RAD.
IMCD 06: Client Representation – Enforcement and Appeals
This course provides students with useful information and skills related to practical client services. Students are trained in assisting clients applying under any immigration class, including the following skills:
Determining admissibility;
Using different forms;
Researching references and resources using traditional and electronic sources;
Representing clients at appeals, admissibility hearings, examinations, judicial reviews, refugee hearings, and pre-removal risk assessment applications.
Client representation provides hands-on learning from the first meeting with a client until completion of the client's application, including available options when the application is refused.
IMCD 07: Professional Practice Management
This course is designed to guide students in the preparation of a business plan, providing information about the business operation, financial aspects of the immigration consulting profession, and human resources management. Students will also develop knowledge about the marketing process of the immigration consulting practice. The skills and knowledge developed by students will allow them to apply the principles of business management to their profession. Students are also required to learn the principles of bookkeeping to ensure proper financial records are maintained when licensed.
IMCD 08: Business Communication
This hands-on course covers communication theory and aspects of written communication. Topics include:
Communication within an organization;
Non-verbal communication;
Effective listening;
Verbal presentations.
Students will learn the techniques involved in effective business writing and speaking. They will develop report-presentation skills by preparing reports and then adapting them for oral presentation.
IMCD 09: Professional Conduct and Ethics
Students will learn about the concepts of ethics, the process of ethical decision-making and the conflicts that can arise. They will discuss the rules of professional conduct for immigration consultants through the case studies and examples, in accordance with the Immigration Consultants of Canada Regulatory Council (ICCRC).
IMCD 10: Immigration Consulting Research and Application
This course will allow students to develop knowledge about the professional organizations and government committees that may influence (or may be related to) the practice of immigration consulting, as well as determine sources of data relevant to practitioners. Students will analyze real issues faced by immigration practitioners in their fieldwork.
Students will present two case studies that will be used to evaluate the student's knowledge and skills in applying the steps, procedures, methods and techniques to collect and analyze information. Students will also prepare and complete different application submissions.
Online Students
Ashton College uses Adobe Connect and Schoology to provide a set of software tools designed to help instructors and students connect and collaborate online. Students should have regular access to a computer, laptop or smartphone to access all class materials.
Students should have a webcam and headset, or a microphone and headphones to participate in webinars. High-speed internet access is also required. To view the full technical requirements for Schoology, please click here and to view full technical requirements for Adobe Connect, please click here. Make sure to run a test to ensure your device will run Adobe Connect. You may be required to install the Adobe Connect browser addin. If so, you will be presented with instructions to do so when you first access a meeting.
Adobe Connect mobile app is only available on Android and iOS. It is mandatory to run join an adobe connect meeting on a mobile device. Recorded sessions are not accessible via the mobile device app, students will need to use a desktop/laptop to view the recorded sessions.
All formats of the program are eligible for Canada Student Loans, other forms of government funding, and bank financing. However, students are responsible for making their own funding arrangements and are advised to contact the relevant funder well in advance of the start date to make an application.
Application and tuition fees for this program are as follows:
Application fee: $200 (Domestic Students) or $300 (International Students)
Tuition fee (Domestic): $8,450
Tuition fee (International): $9,880
Note: Tuition fees do not include the cost of required textbooks.