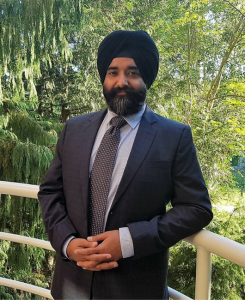 Dr. Chattar Gill graduated from the University of Manitoba in 2006, after which he became an owner of a private practice in the lower mainland area. Dr. Gill has a wide range of interests in dentistry, including orthodontics, implants, laser dentistry, TMD pain, CAD-CAM dentistry and general restorative procedures.
Dr. Gill is involved in the UBC mentorship program for DMD students, and he has helped many international dental graduates navigate the licensing process in Canada. He is also a member of many professional associations and study clubs.
Outside of dentistry Dr. Gill is very passionate about the role of nutrition in our well-being and is always learning about the impact food has on many chronic diseases. He volunteers his time with community organizations for youth mentorship. In his spare moments, he enjoys spending time with his family, reading, hiking and exploring the great Canadian landscape.