Fall is both inspiring and uplifting as well as challenging and demotivating. On one hand, there's the awesome change in colours around us, back-to-school, fresh starts and Halloween. On the other hand, the weather turns to a drearier pattern, daylight savings time is hard on everyone and it's sad to see plants dying back for the year as they prepare for another spring.
This change in the seasons can leave many of us feeling blue or facing seasonal sadness which can take a toll on our day-to-day life, especially when it comes to work or studies. Things seem harder to accomplish and we're less interested. There are solutions though. Fortunately, seasonal depression and sadness in the fall and winter are often easier to find solutions for than more challenging non-seasonal mental health issues.
Since we're being perfectly honest, I want to say that I've been there and I don't mind sharing that because depression, anxiety, seasonal blues and all kinds of mental health issues need to be talked about more to eliminate the stigma around them. Many of us have faced the downward turn the changing seasons bring. But, with persistence and patience, you're likely to get better at spotting when you're facing a depressive incident and making use of the tools to help you get out of it. Not all options will work for you, but you'll soon learn what will.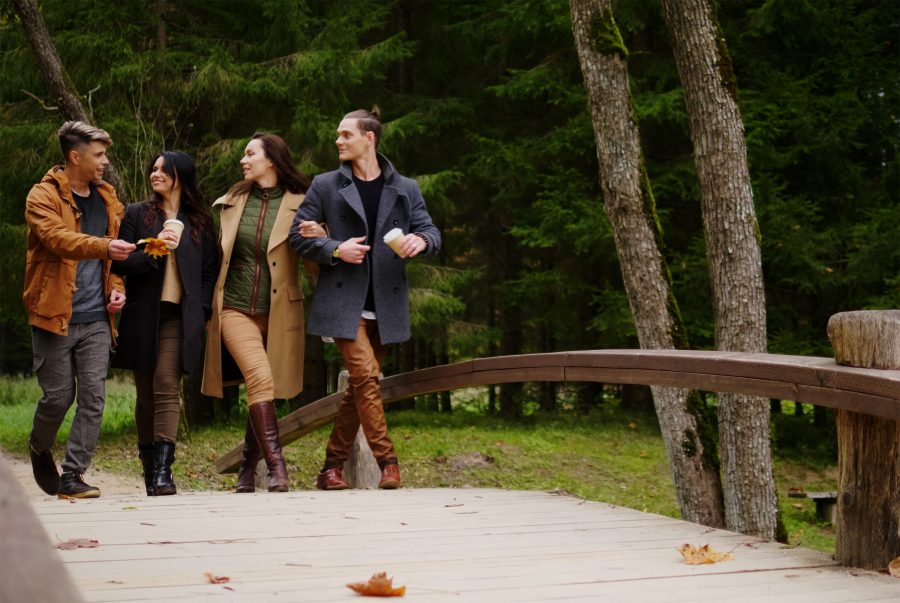 Here are our top 5 ways to combat the seasonal blues:
1 – Talk about it.
Sometimes we can chat with someone in our social circle about how we are feeling and it will make us feel better. Other times, those feelings go beyond what a friend or family member is able or willing to listen to. The point is to find someone who will listen. If you know you have a lot to say about what you're going through, look for a counsellor or psychiatrist who specializes in seasonal blues or moderate depression. Many professionals have a variety of techniques and therapy to use both in sessions and as "homework" that you can take into your everyday life. Look for someone willing to listen that you click with. You might even talk to your doctor about what you are experiencing. While not everyone needs or benefits from antidepressants, many people are better equipped to change the way they think once they have help from medication.
2 – Move your body.
On a sunny or even cloudy day, get outside, take in nature. You may not want to go out in the rain and that's fine. Save rainy days for going to the gym, jumping around your living room or even vacuuming enthusiastically. Studies have shown that exercising vigorously three or four times a week can often help to control or reverse mild depression. The benefits increase when that movement is in nature, so definitely take advantage of it when the rain isn't falling – or even if it is and you don't mind wearing a raincoat or sporting an umbrella.
3 – Establish and stick to your schedule.
It somehow seems more appealing to pull the covers up over our heads when it's dark and cold outside. Resist that urge. If you naturally rise at 7 in the summer months, stick to that same time in the winter. By going to bed and getting up at the same time every day, your body will be less triggered to "hibernate" during the fall and winter. You'll build up a similar level of get-up-and-go by sticking to a schedule that tells your body this is the routine. Plus, you'll sleep better if you keep to a consistent time habit.
If you always ate at 7 pm in the summer, keep eating at the same time in the winter, the same goes for exercise. If your routine was to get up and walk around the block or fetch the mail, keep it consistent even if you need to dress differently or look for the rain boots.
4 – Get cozy and comfy – build your winter den.
This may seem counter-intuitive to the point about sticking to a schedule, but it's far from it. The Danish (who face their share of darkness in the winter months) have a habit known as hygge (pronounced hoo-gah) that basically means "get cozy." Create a warm, inviting environment that you love. This may be cooking stews with winter root vegetables or playing your favourite music while you're on the couch taking up a new hobby. It could also mean playing games or socializing with friends. Ultimately, the Danish know that it makes sense to create a sense of coziness that embraces the season rather than trying to repel it.
You might want to buy a new blanket for the sofa or a pair of warm fuzzy reading socks. Whatever things bring you joy when it comes to fall and winter are things you should embrace and enhance.
5 – Keep nutrition balanced with helpful foods.
Sometimes when we aren't eating enough of a particular type of nutrient, our seasonal mood issues seem worse. Ensure this isn't the case for you by doing research to find the best foods for you during the fall and winter. Be sure to check credible sources for your information or consult your doctor or another health care practitioner.
Some choices are lean red meats, spinach or legumes which are high in iron. Iron deficiencies are often a contributor to fatigue, mood changes and dizziness. Consider foods high in Omega 3 fatty acids like flaxseeds. Omega 3s are great for supporting brain health and are also found in salmon. Salmon also contains Vitamin D which helps to boost your immune system and balance mood.
Look for other options to help, but again, keep focused on finding credible and valid sources – or heck, go ahead and try something "woo woo" so long as it isn't harmful to you or anyone else. Get to know yourself. It's going to take time, but it is possible to get out of seasonal depression with help.
NOTE: If you are feeling suicidal at any point, it is not a case of seasonal blues or seasonal depression. Please, immediately contact people who love you and surround yourself with support. Reach out to a counsellor or psychiatrist, your doctor or call 1-800-784-2433 or one of the many other crisis support lines available. Mental health should never be taken lightly and there are always people available to help who care about your well-being.