It's the end of 2018, the time to review your achievements of the previous year and set goals for the new one. The new year is the perfect time for a fresh start and a new beginning. It's a great opportunity to plan how you can improve your life and take steps towards your dream career. Education comes as part of your long-term career plan and you need to think it through carefully to make sure you are on track.
Students of all ages have always been debating whether it's worth going to college or to university to get a post-secondary education. This debate doesn't come as a surprise taking into consideration how much time and money you'll need to invest to pursue a degree. So, if you are not sure whether you should go to a university and you are trying to choose between a college and a uni we would suggest you choose both. This will be an ideal education pathway and here are a few reasons why.
College as a stepping stone
As you may already know a lot of career paths do not require a degree. Sometimes, short-term college training can be enough to get practical knowledge and hands-on experience of a chosen occupation. However, it really depends on the field you are willing to work in and the level you'd like to progress to in your career. For example, if you're dreaming of a career in business management getting a college diploma and then pursuing a Bachelor's degree might be your best bet.
If you are just out of high school going to college will help ease yourself into the post-secondary education and allow for a smooth transition. Taking a Diploma in Business Management at Ashton College will provide a comprehensive exploration of all major areas of business and will help you develop practical knowledge of marketing and sales, human resources and bookkeeping, international trade and export, risk management and foreign investment. The classes are engaging and practical.
The business management courses combine lectures and interactive discussions, real-life examples and case studies, and site visits to corporations to create an optimal learning environment for each student. In addition to specialized training in business management and business administration, you will be able to develop interpersonal, organizational, computer, decision-making and practical skills needed to start a successful career in today's fast-changing business world.
Finally, in addition to the knowledge and skills, you will be able to focus on your social life. With smaller class sizes in college, you will most likely find like-minded people and make friends. This is especially important for international students who often feel lonely and frustrated in their new environment. With friends among fellow students, it will be easier to explore the new city and country you now live in, learn about the local culture and get the emotional support you need so much.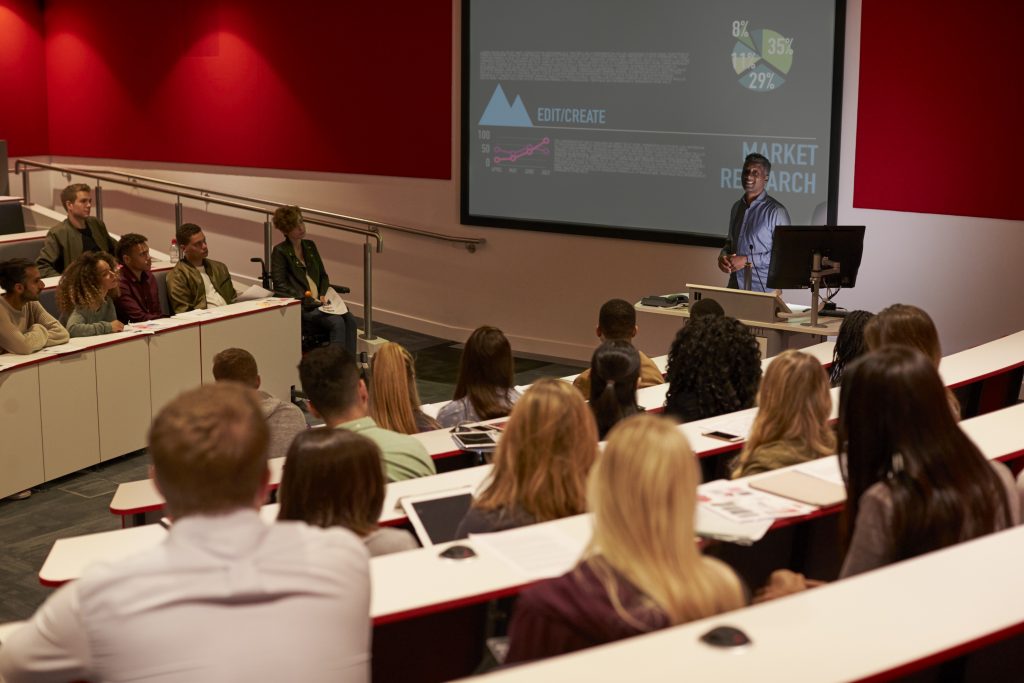 Transfer to a university
Once you finish your business management courses you can transfer from college to university, and a lot of students recommend this path if you want to succeed in your dream career. After graduating from Diploma in Business Management program at Ashton College, you can transfer your credits to our partnering Yorkville University and pursue a Bachelor's Degree in Business Administration. If you have achieved the required academic standing you will be eligible to transfer credits towards your degree program at Yorkville.
Yorkville University's Bachelor of Business Administration offers in-depth knowledge of management and business that can be applied in real-life settings. Throughout the studies, students will be engaged into discussions, group assignments, case studies, online simulations and major projects. This will help you to build confidence in the application of your newly acquired skills and knowledge.
In addition to the general understanding of business administration, you can pick a specialization in order to help you focus on the field you are most passionate about. The BBA program at Yorkville University offers specializations in Accounting, Supply Chain Management, Project Management and Energy Management for students in BC. You will need a minimum of 120 credits to complete the program. Good news is that you will already have 36 of them transferred from Ashton College.
With a university education, you will be able to access more specialist jobs. While a degree doesn't always guarantee a job offer it can still help you open certain doors, especially in business management. You will need a BBA degree if you are aiming for managerial positions or if your goal is to secure employment in a large multinational corporation. The more competitive the field is the more valuable your credentials become. Also, the university degree is very likely to increase your earning potential which comes hand in hand with career advancement.
Upgrading your transferable skills can be another bonus to the academic component of your university education. A lot of employers say that they value the university graduates for their abilities to conduct research, write in business style, work under pressure, plan their work, manage time and meet deadlines. Other very useful soft skills you are very likely to develop during your university studies are giving presentations, managing projects and working within a team.
One of the major concerns of the students who would like to pursue a degree in Business Management is the cost of education. A great solution to this issue can be studying online and working part-time to lift up the financial burden. Yorkville University takes a flexible approach to education designing the curriculum to optimize the learning experience of online students. However, international students will have to maintain the full-time on-campus studies as per the requirements of their student visas.
The last but not the least perk that comes with taking a Bachelor in Business Administration program at Yorkville University is that the graduates will qualify for the Post Graduate Work Permit. This is a great opportunity for international students to gain valuable Canadian work experience in the field of their choice. You will practically apply what you have learned in college and at the university, advance your professional goals and gain work experience in Canada, which you might need to qualify for permanent residence.
Studying business management nowadays is a great choice especially if you are not yet sure about your future career. This education prepares you for a career in business which can stretch across any field or any industry. Business administration education is based on real-life and is applicable in lots of sectors. It's totally up to you to decide on the area you'd like to work in and what goals to set for yourself.