When was the last time you were at the dentist? A couple of months ago? Most of us have been within the last six months. While it's obviously important to have a good relationship with your dental hygienist and your dentist, your first point of contact is the dental receptionist and this person often sets the tone for how you feel about the office.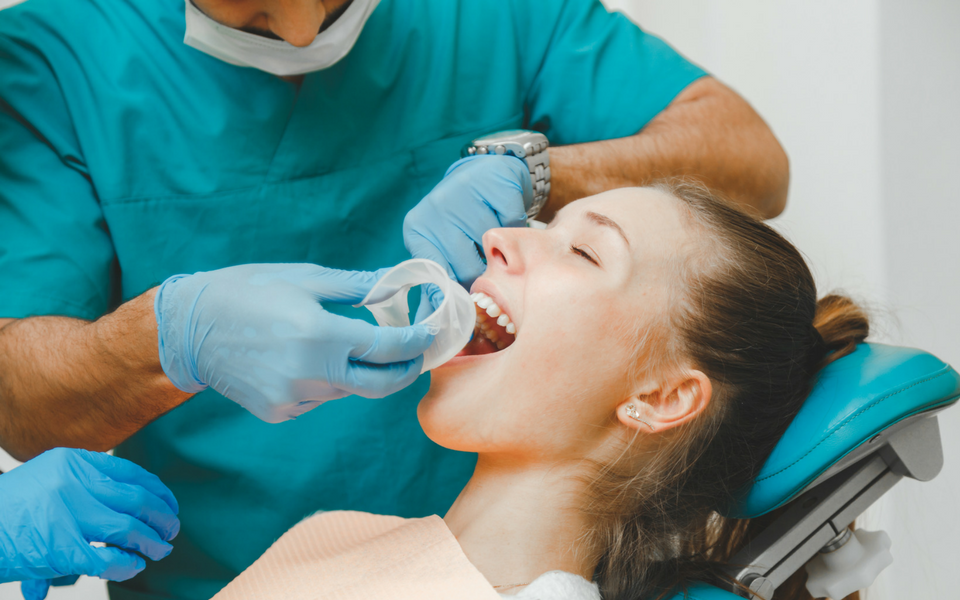 Sometimes the field of dentistry gets thought of as its own entity but it's really an important part of the overall healthcare area. The role of a dental receptionist is crucial to keeping a dental office running smoothly; it's a fast-paced job that can often be a way to get into healthcare relatively quickly with help from a specialized dental receptionist course.
The role of dental receptionist
There's so much more to a dental receptionist's job than just answering calls and booking appointments. While interacting with patients in these ways is pivotal to the role, and working well with the public and others in an office environment is essential, there are other important facets to being a dental receptionist.
The next time you're in the dentist's office or at a dental specialist's, quietly observe what those friendly people behind the desk do in addition to checking you in. The list of responsibilities for a dental receptionist job is lengthy, but in addition to greeting existing patients, they do the following:
Welcome new patients, get them in the office system, help them complete all required forms and keep information up to date
Work as "air-traffic-controller" in managing patients through their appointments, juggling those who are late or early with hygienists and other team members or rescheduling
Schedule and confirm upcoming appointments, including recalls, arranging records for the next day and filling cancellations as appropriate
Work with the dental practice's computer and paper systems to ensure scheduling, files and records are accurate, up-to-date and secure
Organize and manage referrals to dental and medical specialists including managing any lab work requests or other technical information required
Manage patient insurance forms and payment plans, arrange payment schedules, take payments, inform patients of payment options, prepare bills and statements, submit forms to patient insurers
Take stock of office supplies, order and restock while also maintaining a professional reception area.
It's a busy job. Many offices have more than one receptionist, but this will depend upon the number of patients seen in the practice, how many dentists work in the office and the general nature of the practice. It takes someone with solid communication, planning, observation and organization skills, along with a keen eye for detail and accuracy and the ability to adapt and go with the flow of the office schedule and other team members.
A dental receptionist works somewhat like a cog in a wheel where all the activities in the office will circle around the reception area. The patient starts and ends their visit at the reception desk. It's the first and last point of contact as well as the channel that all questions and requests flow through.
Generally, a high school diploma (or equivalent) combined with computer, administrative and office procedure skills will be the basis for a dental receptionist's education and skills, but specific training programs at post-secondary schools are becoming a requirement more and more. These programs meet the needs of a busy dental office in that they can hire a new employee able to take on their role immediately because of their knowledge of dental terminology and information as well as an understanding of dental insurance.
Dental receptionist salaries
According to the website "indeed", salaries for dental receptionists in B.C. range from a minimum of $10.15 an hour up to $35.90 an hour with a middle-of-the-road rate of about $20 an hour. Obviously the range will depend upon a candidate's skills, experience, the office itself and what the demands of the job are. Someone with dental receptionist education (achieved through one of the post-secondary programs previously noted) is more likely to obtain a higher salary than a job candidate without the additional relevant education.
Types of office environments
Not only can dental receptionist jobs be in traditional dental offices, they can also be in specialty offices such as dental surgeons, orthodontists, pediatric dentistry, periodontics or others, as well as dental labs, clinics or denture offices. Each office will have its own unique environment so applying for a job depends as much on the people in the office as the tasks you'll be required to do.
Because many offices have more than one dental receptionist, there is often more flexibility in work hours than in other jobs. Part-time, full-time, job sharing and even some virtual receptionist work are all possibilities in this growing field.
Dental receptionist program education
When considering a dental receptionist course, look for a school that offers on-site education in a dental clinic environment and work with current industry standard information and materials. These standards will ensure graduates from a program will be ready to enter the workforce confidently, prepared for the majority of situations. Courses should also include both the business side – keyboarding, communications, procedures, scheduling and billing – as well as the dental terminology side of the dental field.
Other options within dental offices
Those interested in working in a dental office, but not about being a dental receptionist, might want to look into the role of a dental assistant. Dental assistant certification programs give students technical and professional skills to work as a dental assistant within a variety of dental offices.
This type of program is geared towards those who want to work closely with dentists and others in a dental office in a mix of support positions. This may include helping a dentist while working on a patient's mouth, fulfilling a range of office tasks or supporting others in the office.
The field of dentistry is growing and employment trends for dental receptionists and dental assistants are on the rise. For those interested in working with people to keep their mouths in top shape, it can be an exciting and interesting role.