The Red Seal Trade Certification program was created in 1952 (then known as the Interprovincial Standards Red Seal program) and applies to 55 different trades in Canada, including electricians. It's interesting that of all the trades in the Red Seal program, chefs seem to be the best known among the public. Together with chefs and electricians who have passed their Red Seal exam are: automotive painters, bricklayers, motorcycle mechanics, machinists and landscape horticulturalists, to name just a few.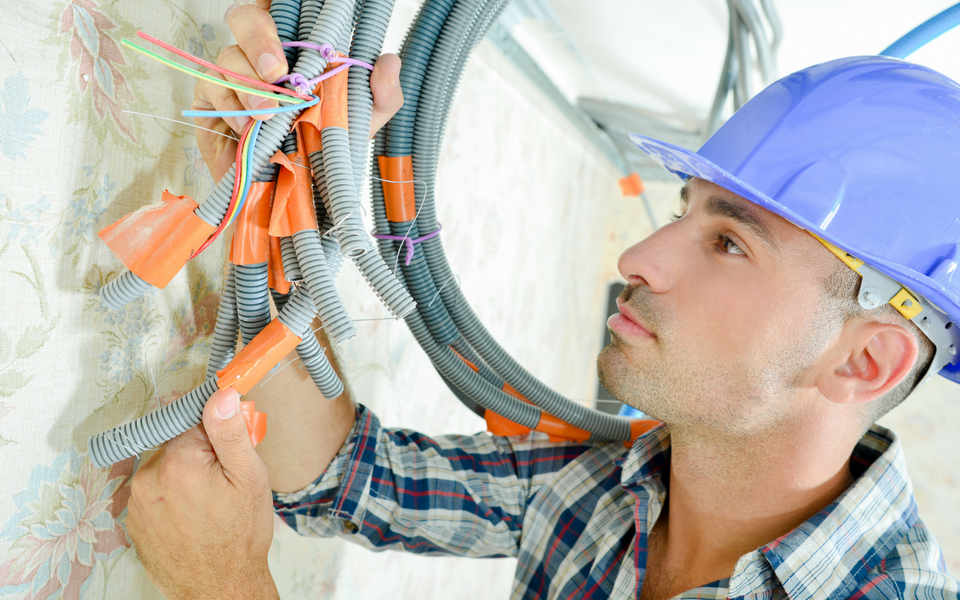 The former name of the Red Seal program perhaps gave a better indication that the program ensures those certified meet the national trade standards and are qualified to work in any province (or territory). As a partnership between provinces (and territories) and the federal government, the Red Seal endorsement earned by tradespeople after completing their Red Seal exam is applied to their provincial (or territory) trade certificate.
There are actually two categories of electricians in the Red Seal Trade Certification program: a construction electrician and an industrial electrician. Any electrician that wants to write the Red Seal exam(s) can have Red Seal certification in either category or both, if they choose. According to their website,
Red Seal construction electricians:
"… plan, assemble, install, alter, repair, inspect, verify, commission, operate and maintain electrical systems. Electrical systems provide heating, lighting, power, security, communication and control in residential, commercial, institutional, industrial and entertainment environments."
While Red Seal industrial electricians:
"… install, maintain, test, troubleshoot, service and repair industrial electrical equipment and associated electrical controls. Their work includes equipment or components directly or indirectly exposed to electrical power such as motors, generators, pumps and lighting systems."
So, industrial electricians are tied more to the access and supply of power through various controls and systems and construction electricians are tied more to the devices and ways those devices use electricity. In the end, these two Red Seal electricians have to go through the same basic processes to become Red Seal certified and have the same benefits from certification.
Is a Red Seal Electrician Certificate Mandatory?
Electricians in BC can work without Red Seal Certification, but having a Red Seal Certificate comes with a number of advantages.
A Red Seal endorsement:
Allows journeyperson electricians to train apprentices in the trade
Shows excellence in training and skills to potential employers or clients (telling a client that you have a provincial/territorial certificate of qualification as well as Red Seal Certification makes a strong impact in the same way dining at a restaurant with a Red Seal Certified chef does)
May allow for a higher salary
May allow those running their own business to attract higher quality candidates for job openings
Gives the electrician a sense of pride in their occupational accomplishments
Gives electricians flexibility in the ability to work throughout Canada
This means that a Red Seal electrician comes with certainty that they have been tested, trained and certified to have a level of knowledge and competency defined by their industry. It can be a great comfort for both potential employers and clients. This certification is recognized coast-to-coast and proves skill and ability without the need for any further exams needed in order to practice the trade anywhere in Canada. While the Red Seal Certification is recognized nationally, the exams and certifications are assigned by the province (or territory) you write the exam in.
There is no need to become certified in another province or territory when you have Red Seal Certification. If you're moving to a new province or territory and have a Red Seal endorsement as either type of electrician, you only need to contact that region's apprenticeship and certification office in order to have your qualifications recognized.
More and more employers are looking for Red Seal Certification in their journeypersons in addition to the provincial (or territorial) certification. It gives the potential employer confidence in the basic level of training and skills that come with the employee's certification. While passing the construction electrician and/or industrial electrician Red Seal exam and becoming Red Seal Certified is optional, it may be a requirement for certain employers – just as the provincial or territorial certification is a requirement to operate as an electrician.
How to Become a Red Seal Electrician
At the start of one's electrician career, they are an apprentice. An apprenticeship is the agreement between an employer (at minimum a journeyperson electrician) and someone who wants to learn the trade. In essence, the apprentice makes money while learning the trade and works towards becoming a certified journeyperson. This includes both on-site hands-on learning and technical apprentice training off the job site.
Generally, the classroom/technical learning begins after about a year of on-site experience.
During the apprenticeship stage, a worker may decide to specialize. Both types of electricians can delve into a number of different areas of expertise such as panels, full-system wiring, pumps, heating and cooling and more. While some electricians opt for certification as both a construction electrician and an industrial electrician, it is advisable to only do one program at a time due to the volume of education and work experience required. These are not simple exams. Especially when one considers just how important properly working electrical is whether it's a house, a business or an overall power grid.
If an apprentice has completed all four levels of apprenticeship training and the required job site hours, they are eligible for a provincial or territorial Certificate of Apprenticeship and a Certificate of Qualification – making them a journeyperson. This process usually takes about four or five years.
At this point, they can then also apply and take the exam for the Red Seal endorsement as a certified journeyman in the construction electrician and/or industrial electrician trade(s). If they pass, they can add the Red Seal certification to their provincial (or territory) electrician trade certificate.
Electrician journeypersons work with electrical systems on their own, whereas apprentices have the majority of their work supervised or double-checked. Often, when an electrician arrives at a job, they will have one (or more) employees with them. While the other employees may be in various levels of apprenticeship, the journeyperson must take the time from their tasks to ensure the apprentice work is being done correctly.
Electricians with 8,340 hours of documented directly-related trade work experience can challenge the Red Seal exam just as provincial and territorial certification exams can be challenged by those with a certain amount of on-job experience.
Working in trades like electricians do is hard work and requires a lot of in-depth knowledge about building and electrical systems, controls and devices. With the right education, the job can be extremely rewarding when wiring problems are corrected for a homeowner or a complete building is up and running. It all makes Red Seal certification worth the work.