Emily recently completed her Special Education Assistant (SEA) program and earned her diploma, and today is her first day at a school. "What will today bring?" wonders Emily, as she walks into her workplace.
Her friend Cara is also starting her new career today. Emily and Cara went through the same program together and landed jobs right away. Though Emily will be working in the public school system, Cara chose to work at a private school.
Emily loves children and easily connects with them. She was excited to learn that she would be working at an elementary school. Her practicum had been at an elementary school as well and she had an opportunity to work with a variety of students. Each day had been different and challenging but the connections she established with students made it all worthwhile.
Cara's practicum was at a private school. The experiences were similar to Emily's and the school really liked her. They offered her a position when she graduated and she was thrilled that she would be staying at the same school.
"How are you doing?" Emily quickly texts Cara as she waits for the principal at the front desk.
"Settling in", Cara replies. Her job started earlier in the day than Emily's. "Let's connect tonight."
The principal at Emily's school steps out of her office and greets Emily. "Welcome Emily, we are very happy you are here. Let me introduce you to Dylan, who will work with you over the next few days to help you settle in."
Emily thanks the principal and follows Dylan into one of the classrooms, where she will spend part of her day.
Dylan explains: "Mornings you will be in the kindergarten class. There's only one student with an IEP (a child with Down syndrome), one student with a safety action plan due to aggressive and abusive behaviour, but definitely some undiagnosed students. This is a highly behavioural class. Tons of exposure to a range of behaviours here! Today you will be working with some of my students."
The morning goes fast. The young man with Down Syndrome, whom Dylan works with, sings, so he's excited to teach Emily to sing his favourite song with him.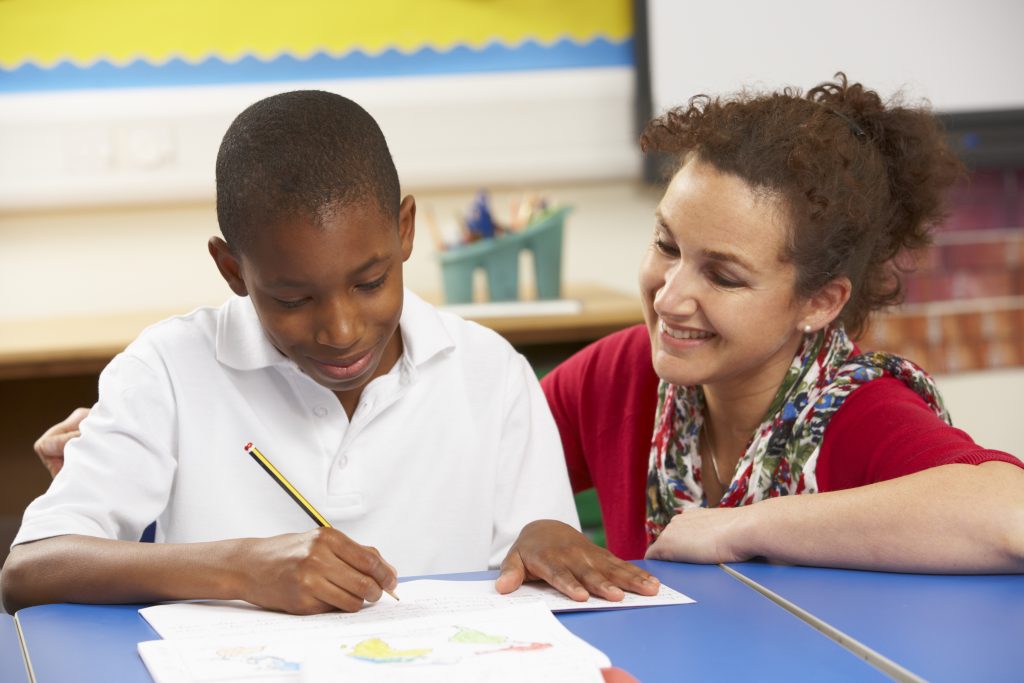 After lunch, Emily goes with Dylan to a Grade 5 class, where she will be working with another student who has Down syndrome, Autism and ADHD. After watching Emily cautiously for a while, the student warms up to her a bit and they are able to get some writing done.
When it is time to do some reading, the student panics and runs out of the room. Emily follows him and finds him hiding in a corner by an exit door. She sits down next to him. He tells her that he can't read at that level and doesn't want to participate. Emily tells him that he doesn't have to but can just sit, listen and follow along. He agrees to come back. Crisis averted!
There are three other IEPs in this class and all students have ASD. And is also a highly behavioural class on top of that. However, the students who struggle the most are actually quite receptive to Emily and she begins to make some good connections.
When Emily gets home she contacts Cara. There is so much to talk about.
"How was your day?" Emily asks.
Cara's day was similar to Emily's in a sense that there were some surprises, but since this was the school that Cara did her practicum at, the students already knew her. She will continue to work with some of the students she did before and a few others as well.
Cara was introduced to a new student, Sarah, who has Cornelia de Lange Syndrome, a genetic disorder. The Special Education Teacher at the school was very happy that Cara had learned about CdLs as a student in her Special Education Assistant program. No one knew a lot about the syndrome when Sarah first arrived.
"How about you, Emily?"
Emily had had an eventful first day (she even had a student throw up in class today).
"I enjoyed my day so much. I'm learning way more than I thought and that too in such a short time, and genuinely being challenged. I feel very welcomed by everyone, and my EA mentor, Dylan, sees my abilities and how I handle students and has given me a lot of independence already so I'm truly capitalizing on it."
Emily and Cara will support a variety of students with multiple disabilities. They will be the voices for those who can't speak and caregivers for those in wheelchairs. They will teach useful strategies to students who can't do it for themselves. Emily and Cara are ready, willing and able to be there for their students. They will become the stabilizing force in the day-to-day lives of some of these children.