The dental industry is competitive and patients are looking for more than just a great dentist. They want a comfortable environment, a qualified team and the latest in equipment. Understanding these patient desires is the best place to begin when you want to create a thriving practice because, after all, your patients are who makes the ultimate call in whether they trust your dental practice and want to work with your organization or not.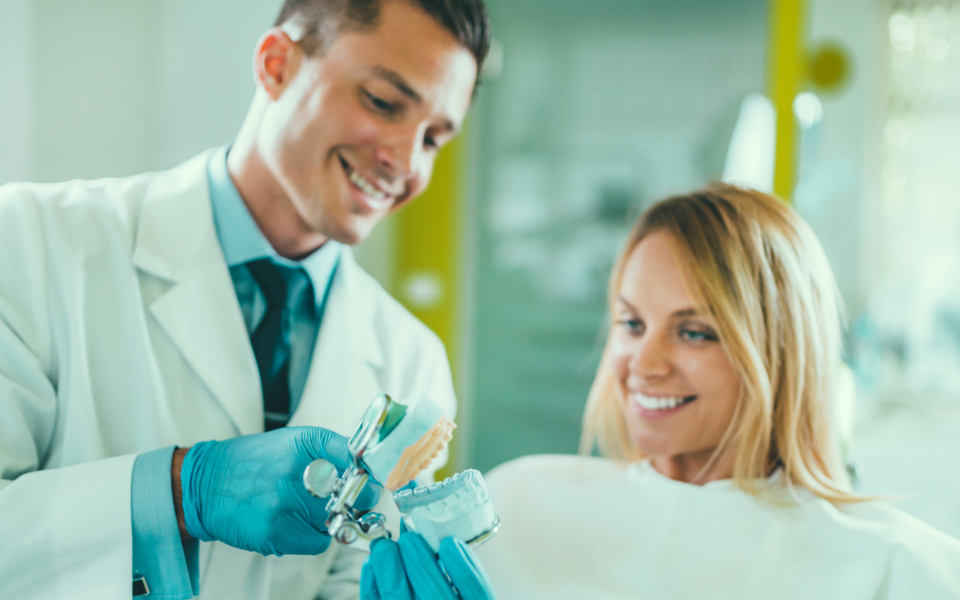 Start at the start – the dental receptionist and dental office administration
To ensure your dental practice is among the best of the best, you need to understand the "touch points" of your patients. Who do they speak to most often? Generally this falls to the dental receptionist jobs, or certified dental assistants. These people are the first line of contact with patients and they need to understand exactly how your dental practice should be perceived by patients and prospective patients in order to give the right service the first time and every time.
Brand is an overused word in the marketing world, but ultimately, to determine how you want your practice to be perceived – whether it's a standard dental practice, a pediatric dentist practice, dental surgery practice, cosmetic dentistry practice or a combination of these – you need to know what you want patients to think about it before you ever establish it. That's part of what the marketing experts call brand – how people perceive your business.
It's somewhat complex sounding, but relatively easy to establish your brand even though most dentists are focused on their craft and patients, not as much on marketing. Just a few minutes spent considering what people want and how you want to be perceived (and a little time spent training your team on this approach) as their oral care professional can make the difference between an average impression when someone answers the phone and a great impression.
What is it you want patients to feel when they visit? How do you want them to talk about your office? Once you know the answers to these questions, you can start to craft ways that the front-line staff talk to patients, introduce the practice to them and talk about how the team can help with their oral care. They are your brand ambassadors and if how they communicate to patients gives the right feeling and focus, your patients will leave with the right impression.
That impression carries from the first phone call to the first visit, as well as subsequent visits. Often it comes down to having educated and knowledgeable staff answer calls and greeting patients the way you want, but also having the knowledge you need them to have to answer basic questions.
With the numerous programs for dental office administration and dental receptionist courses, it's easier to screen potential employees by choosing those with the background education that will make your life easier. Because those who have earned a dental assistant certificate or completed a dental office receptionist course have already learned the background information about a dental office, it makes training them to your desired way of doing things that much easier. Ultimately it puts you several steps ahead of the dental office that hires someone who knows nothing about the field.
Ensure equipment and software is both modern and popular
The majority of dental assistants and techs will come to dentistry in Canada through courses that are taught using tools that may be out-of-date.
A program like ClearDent allows for electronic patient charts, digital radiographs, billing, scheduling and more. So while a prospective employee should understand paper charting, they should also be comfortable with a program like ClearDent that is current and popular in today's dental practices. You'll want to ask those you interview what systems they trained on to save yourself additional training time to get them up to speed.
Another piece of equipment prospective employees should be familiar with is the Hyrim instrument washer. Many schools continue to use the ultrasonic bath, which is close to obsolete, so those who have earned their dental assistant certificate around the Hyrim instrument washer, cassette systems and hospital level sterilization techniques will be ready to hit the ground running in your practice.
The same goes for digital radiology. While film should be familiar, it's more likely you'll have digital radiology in your office and you'll want a job candidate who has learned how to use it efficiently.
When you are involved in the hiring process, review what students learned at the schools you see on the applicant resumes. Search school websites. You will find that some students have minimal time to practice their skills with the equipment while other schools are focused on student-centred learning and skills application.
Warm and friendly environments
It used to be that only pediatric dental offices created an interesting décor and environment for patients. Now, we are seeing all dental offices moving towards an interior that creates more relaxation and comfort. This extends from the waiting area to the individual stations and all the way to the lunch room. An attractive environment benefits staff as much as it does patients!
Look to using warm, natural colour schemes that inspire comfort. Artwork is also important and can carry a theme from one end of the office to another, or can be specific to an area allowing the design to create the feeling of unique and individual spaces.
Most practices include TV and electronics in their patient care programs and while this can mean different things to different dental offices, patients appreciate the ability to watch TV, search YouTube or play a game to help distract them. The costs are low for items like tablets and with them being in an office environment, they tend to last a long time.
Of course one of the most important aspects of an office that makes a patient feel comfortable is cleanliness. All spaces must be clean and pristine from the reception desk to the washroom. Seeing an overfull garbage can in the waiting area will leave patients wondering what else is being neglected.
A lot goes into creating the best dental office possible. Educated and knowledgeable staff is perhaps the most important, followed closely by the need to include modern yet commonplace equipment and finally creating a warm and friendly environment where patients can feel comfortable.