Careers in the Medical field are some of the most rewarding, both on a personal and a financial level. At the same time, these careers are also very demanding: they require years of education, practical experience and hard work. While most people don't mind the hard work, many don't have the opportunity to spend years in school.
You could be a professional who decided to change careers, a foreign-trained doctor or nurse unable to go through the re-certification process, or a new Canadian immigrant wanting to get into the medical field. Whatever your situation may be, if it prevents you from obtaining a Bachelors, Masters or Doctorate medical degree, it doesn't mean you should be giving up on your dreams of working in the healthcare or medical sector.
There are different ways of getting into the medical field, one of which is through training and work experience. Have you heard of medical administrative assistants? This could be your way in!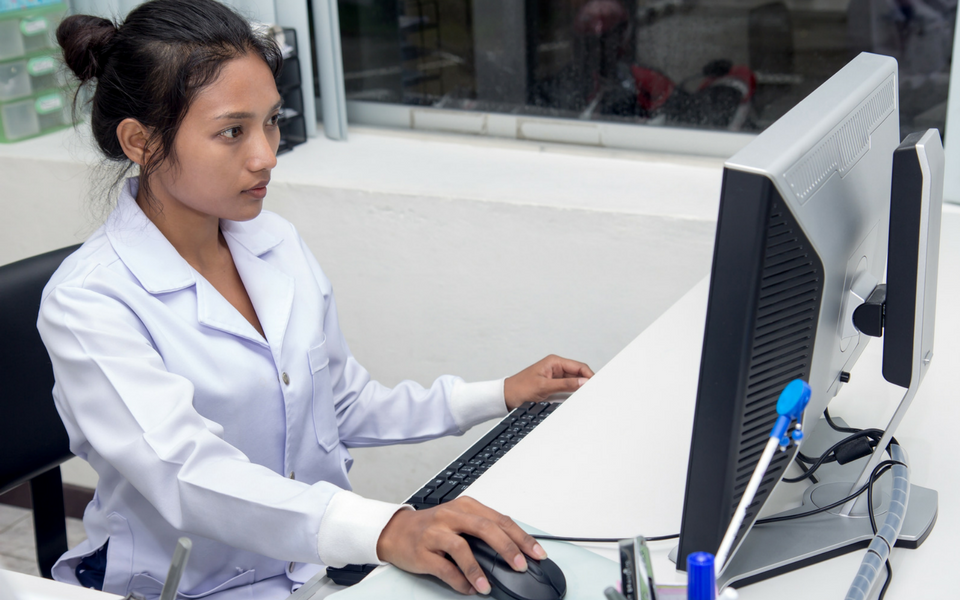 Medical Office Assistant: Career Overview
Medical Office Assistants are also known as Medical Administrative Assistants, or (sometimes) Medical or Ward Secretary. The main role of medical office assistants includes providing technical, administrative and secretarial help and support to other medical professionals in various medical settings (hospitals, medical clinics, doctors' offices, etc.).
Main Duties:
Scheduling and confirming appointments,
Receiving and communicating messages for medical staff and patients,
Entering electronically based medical reports and correspondence,
Conducting initial interviews with patients in order to complete forms, documents and case histories,
Completing insurance and other claim forms,
Starting and maintaining confidential medical files and records,
Preparing financial statements and billing procedures,
Establishing and maintaining various internal office administrative support procedures, such as document tracking and filing and monthly reporting.
Key Skills:
Medical office assistants are often dealing with the clients, which is why they need to have excellent interpersonal and communication skills, adhere to ethics and have a good judgement. Medical professionals should also be:
Tactful and discreet,
Detail-oriented,
Able to work well under pressure,
Organized and able to manage large amount of detailed information,
Team-players, but also able to work independently.
Earnings:
Medical office assistants across Canada earn anywhere from $14 to $28.5 dollars per hour, with the median salary of $20.99, according to the Department of Employment and Social Development Canada. In BC, the median salary is higher: $22 per hour, with the salary range between $15 and $31.25 per hour.
For more information, please go to JobBank.gc.ca or WorkBC.ca (or other employment websites in your respective province).
Become a Medical Office Assistant
Medical office professionals need to have completed a minimum of secondary school. Even though specific certifications and diplomas are not required to start working in the field, most employers are looking for additional education and training. The training can include:
Completing a Medical Office Assistant Diploma or Certificate,
Training in medical terminology or pharmacology, management software and basic medical office procedures,
Specialized training in electronic medical records (EMR) systems.
The most popular option is taking the Medical Office Assistant or a Medical Administrative Assistant courses and getting a diploma or certificate. Such programs incorporate hands-on training to ensure that future medical professionals are best equipped to fulfil their duties and go above-and-beyond to for their clients. Most importantly, however, some programs can offer practicum experience, after which it becomes much easier to get employment in the field.
For more information, read our previous blog on the Ultimate Ingredient to Becoming a Medical Office Assistant.
Future Career Opportunities
Medical office assisting can be a rewarding career in and of itself. However, it could also be a stepping stone for other careers in the future. According to Payscale.com, many medical office assistants move on to become medical office managers. As they gain experience, medical office professionals can also find employment in specialist practices or get supervisory positions. Some people choose to pursue further education down the road while gaining valuable experience (and a good income) in the field.
The Medical Office Assistant Diploma
Jumpstart yout career in the medical field, gain valuable knowledge and skills through elaborate classes and practicum placement! Register for the Medical Office Assistant Diploma program today.