A lot of students struggle with funding their post-secondary education in Canada, and they have to resort to financial support that can come from a wide variety of sources including loans from the government and private financial institutions. The government-funded loans are reliable and affordable and so are the most common go-to solutions for those seeking financial assistance. The new initiative by the BC Government to eliminate all interest on provincial student loans starting February 19, 2019, will further help reduce the financial burden on current and future students.
What is a student loan?
Students and their families who don't have the means to meet the costs of post-secondary education can receive financial assistance through StudentAid BC which is a partnership between the Government of British Columbia and the Government of Canada. This program provides loans, bursaries, grants and scholarships allowing students to overcome their financial hurdles. The student loans are need-based and are not intended to fully fund your education and living costs but to supplement the finances available for you through work, savings and family resources.
When a student applies for a loan he or she is able to fill out a single application to receive funding from both the provincial and the federal governments. However, the repayment of BC Student Loans will be handled separately by each level of government. Since February 19, 2019, no interest will be charged on BC government-issued student loans, but interest will continue to be charged on the Canada Student Loan portion. Students will still remain responsible for paying interest that has accumulated on BC Student Loans prior to February 19, 2019.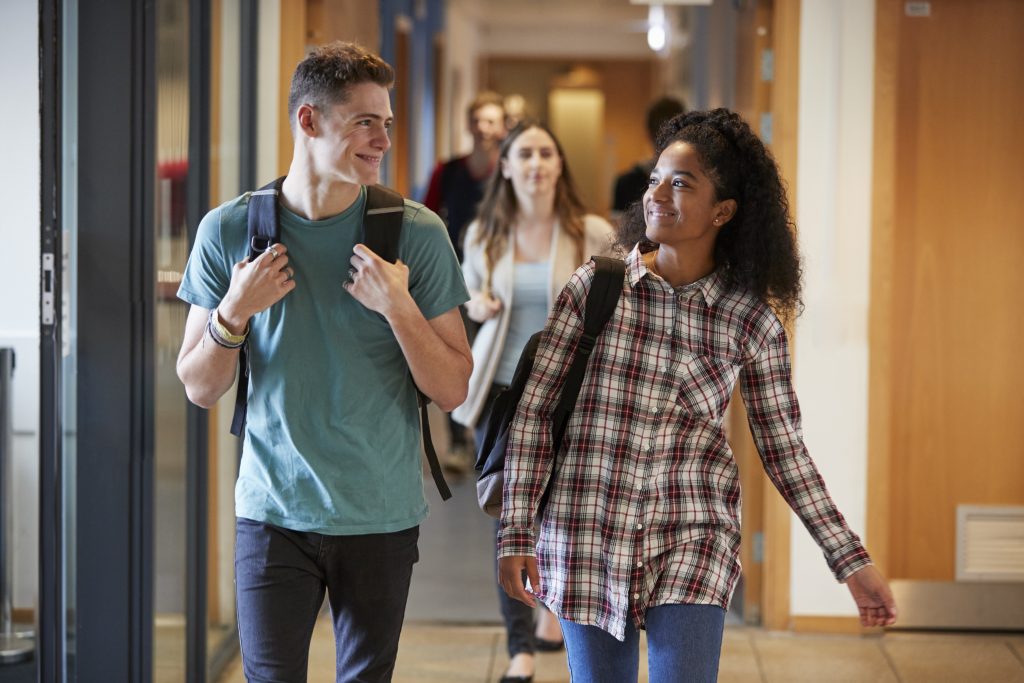 What is important to know before the application?
If you've investigated all possible funding options and are sure that you want to apply for BC and Canada Student Loan, you should determine your eligibility first. You need to be a Canadian citizen or a permanent resident and live in BC. You should also have a valid Social Insurance Number. The most significant requirement will be for you to demonstrate the financial need. StudentAid BC funding varies according to your financial situation, status, length of the study program, number of dependants and other factors.
Also, you need to check whether the school of your choice is a designated institution. All public universities, colleges and institutes in BC are designated by StudentAid BC. However, if you're willing to attend the private college, you'll need to consult StudentAid BC website.
StudentAid BC will use the following formula for the loan calculator: your available resources will be subtracted from the total education cost to determine your assessed financial need. Educational cost includes tuition, books, moderate living costs, transportation costs and others. In order to qualify for a loan, you will need to provide the proof of the financial contribution you can make from your own assets, your parent(s), spouse/ partner's support or any other resources, including scholarships, grants, loans, part-time employment and others. Different terms and conditions may apply depending on whether you're willing to take a part-time or a full-time program.
How to apply for and receive the loan?
Both full-time and part-time students can use StudentAid BC online application system to request financial assistance. You can also fill out a paper application through StudentAid BC or from your student financial aid office. You can check the status of your loan application online 24/7. Normally, loan applications are processed by StudentAid BC within six weeks. Once your application is processed you will be sent a notification of assessment stating whether or not you have been approved for financial assistance. If you have been approved you will be notified of the type of available funding, amount you will receive, when and where it will be sent.
With the approval, you will also receive legal documents outlining terms and conditions of the loan. It is important to understand all the details of the binding legal contract you are entering with federal and provincial government when getting the loan. The student loan agreement with the BC government will be sent to you only the first time you apply for a loan and will remain in effect for all subsequent loans from the provincial government. The agreement with the Canada Student Loan will be sent to you every time you are approved for the loan from the federal government.
To receive the BC Student Loan you will need to go to the Canada Post outlet to confirm your identity and submit the loan agreement for processing. You must also ensure that StudentAid BC has the confirmation of your enrollment in a post-secondary institution. Your BC Student Loan will be directly deposited into your bank account. With Canada Student Loan, the process is almost the same. Along with the agreement, you will also receive your certificate of eligibility. The funds will be deposited directly to your bank account as well.
If you are not approved for the loan or you feel that the assessment of your financial circumstances hasn't been done properly, you have the right to appeal. This can be done by completing an appeal request form. You will also need to include a letter describing your circumstances and any supporting documentation required to verify your appeal. If your financial situation has changed since you applied for a loan, you can ask for reassessment of your financial need. You can ask the student advisor at your school to help you with the reassessment or appeal process or you can contact StudentAid BC directly.
How to maintain and repay the loan?
This is the most important part of getting a student loan, which is maintaining and repaying it. If you are a full-time student you don't have to make any loan payments during your studies. Part-time students are required to make interest payments but they don't need to repay the principal while they attend school. However, both types of students have an obligation to attend school as per their student loan agreement and maintain good academic standing. If you drop your course load, stop attending your classes or withdraw, it will affect your student loan and you will no longer receive financial assistance.
Once you graduate or stop attending school you will need to start repaying your loan. The interest on your loan will start to accumulate after you finish your education. As a full-time student, you will have a grace period of six months during which you won't have to make any interest or principal payments. During this time you will need to get in touch with StudentAid BC to arrange for repayment. Please note that your provincial and federal loans will be paid back separately to different institutions.
Starting from February 19, 2019, all the interest on the provincial portion of the loan will be eliminated. However, you will still need to repay the interest that has already been accumulated within the period prior to February 19, 2019. Also, you will still need to pay the interest on Canada Student Loan issued by the federal government. You will also need to pay the principals of both of the loans. It is your responsibility to repay your student loan and not fulfilling this obligation will seriously affect you in the future. If you're struggling with the repayment of your loan, contact StudentAid BC for help.
Programs at Ashton College approved for BC Student Loan
Ashton College is designated by the government for both federal and provincial student aid. The designation ensures that Ashton meets the standards of integrity and educational competence set by the government. As outlined in StudentAid BC policy manual, the designated schools are expected to focus on your success, and on ensuring you improve your overall employability.
Please find below the list of programs offered at Ashton College that qualify for BC Student Loan. Click on the links to find out more details about the programs.
Immigration Consultant Diploma
Immigration Legal Assistant Certificate
Certificate in Bookkeeping
Diploma in Human Resources Management
Dental Receptionist Certificate
Diploma in Business Management
Medical Office Assistant Diploma
Special Education Assistant Diploma
Community Support Worker Diploma
For more information on student loans please visit StudentAid BC official website: https://studentaidbc.ca/