Choosing a career in medicine and healthcare is a smart decision due to the fast growth of this sector and the increasing demand for qualified professionals. The sector provides a variety of job opportunities, from medical personnel to management and administration employees. Striving for a job that would help her make a difference in people's lives, Ramanpreet Kaur Sandhu came to Ashton College to explore the educational options to enter the medical field and made a choice that determined her career path.
Ramanpreet Kaur took the Medical Office Assistant Diploma program at Ashton College in Abbotsford and found it a great fit for those who want to combine administrative skills with improving patients' outcomes. With her fellow students, Ramanpreet Kaur studied a wide range of subjects including medical terminology, administrative and clinical procedures, medical billing procedures, medical office transcription and others, getting ready to work in a variety of medical environments.
Starting college education and getting into a new field can be quite stressful on its own, that's why it was important for Ramanpreet Kaur to stay within her familiar settings and so she chose a college located in Abbotsford. She was encouraged by the instructors to study diligently and overcome the difficulties in learning and was motivated to pursue her dream career, caring for people and helping others to lead healthy lives.
When asked what she liked most during her studies at Ashton, Ramanpreet Kaur answers that it was the teaching method. She appreciated the practical approach in her studies, that everything she learned in the classroom, she could later apply at her workplace. The instructors shared with students various case scenarios that might happen in real life and guided them on how to deal with complicated situations and different customers. Ramanpreet Kaur acknowledges that her experience at Ashton College was very valuable and empowered her with knowledge of how to handle real-life situations at work.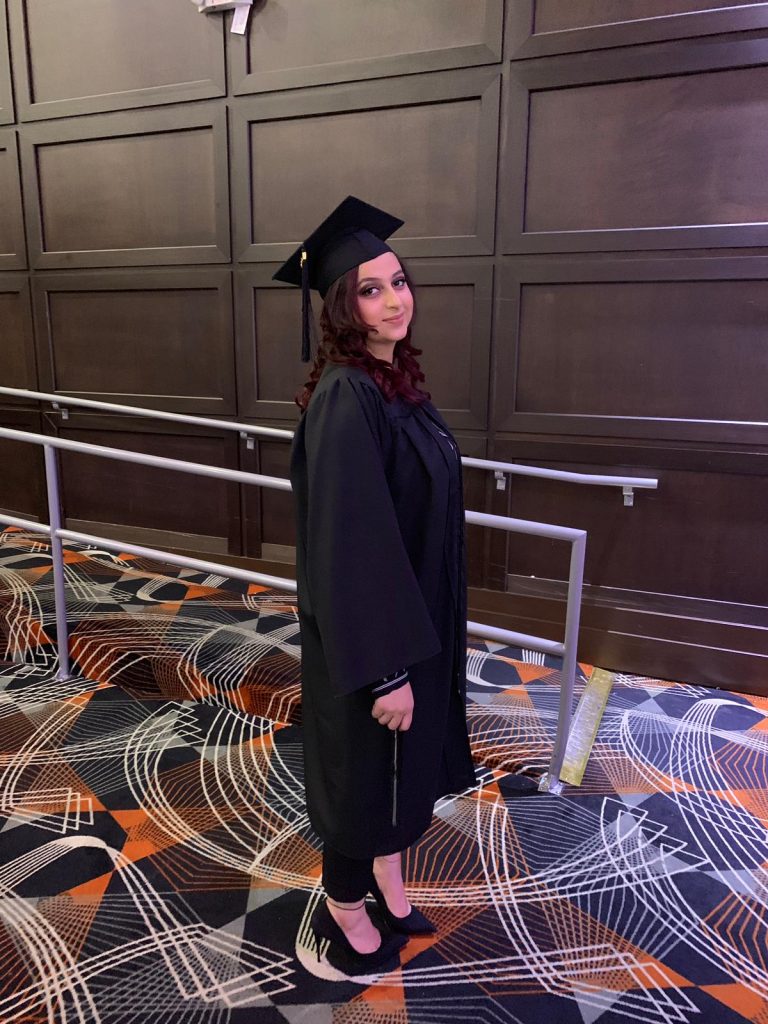 One of the important aspects of working as a medical office assistant is that it involves a lot of interaction with different people including patients, doctors and other medical staff. And it's impossible to learn the best practices of such work in the classroom setting. So, recognizing the students' need for getting hands-on experience, Ashton College provides them with the practicum opportunities, when the students spend about 80 hours in a clinical environment under the supervision of an experienced professional. Ramanpreet Kaur feels especially thankful to Ashton for being able to get an internship in a clinic and learning how to be successful in her job.
Ramanpreet Kaur says that Ashton helped her to set up her professional and personal goals. She is grateful for the opportunity to update her qualifications and get the knowledge and practical skills for securing employment in the medical sector. During her studies at Ashton Ramanpreet Kaur was also involved in volunteering and participated eagerly in the campus life that helped her develop valuable soft skills and build relationships with other people.
Currently, Ramanpreet Kaur is working at Ellwood Medical Clinic in Abbotsford as a medical office assistant. She enjoys helping patients organize their appointments, providing answers to their questions and assisting them in resolving various issues. Also, she likes to assist the doctors to run the clinic smoothly. The main challenge for a medical assistant, as Ramanpreet Kaur says, is that sometimes her work days can become really busy with helping patients at the counter, taking phone calls, handling inquiries, dealing with medical representatives and other duties.
Ramanpreet Kaur says that in order to be successful in the work of medical office assistant one should have good industry knowledge, should have excellent critical thinking and ethical judgement skills. It is also important to have good customer service abilities, to build trustworthy relationships with patients, to be able to assess the situations quickly and make the right decisions. A medical office assistant should be self-confident, possess leadership skills and excel in verbal and written communication.
Since there are lots of opportunities for advancements in the medical sector, Ramanpreet Kaur is sure the future is bright for her. She is looking at building strong relationships with clients and providing them with excellent services and care. She also plans to develop new efficient medical procedures that will enhance the clinic's efficiency. She wants to become an expert in one specific field and grow to be successful in her career and her life.