If, instead of pretending to be a doctor, or setting up a school house, you dreamed of dentistry when you played as a child, there are still plenty of opportunities to get into the industry now that you're an adult. Gaining a dental assistant certificate from a dental school can be your ticket to working in the field you've always dreamed of.
Perhaps you're one of the people who didn't dream of being a dental hygienist, but you are looking for a new occupation, enjoy working with people and are interested in various parts of the healthcare system. Dental assistant jobs may be perfect for you. The best thing is that this role doesn't require the extensive years of schooling (between seven and nine years) and commitment becoming a dentist does. Consider that after their lengthy education component a dentist has to establish and build their own practice. It takes time, financial resources and a lot of effort.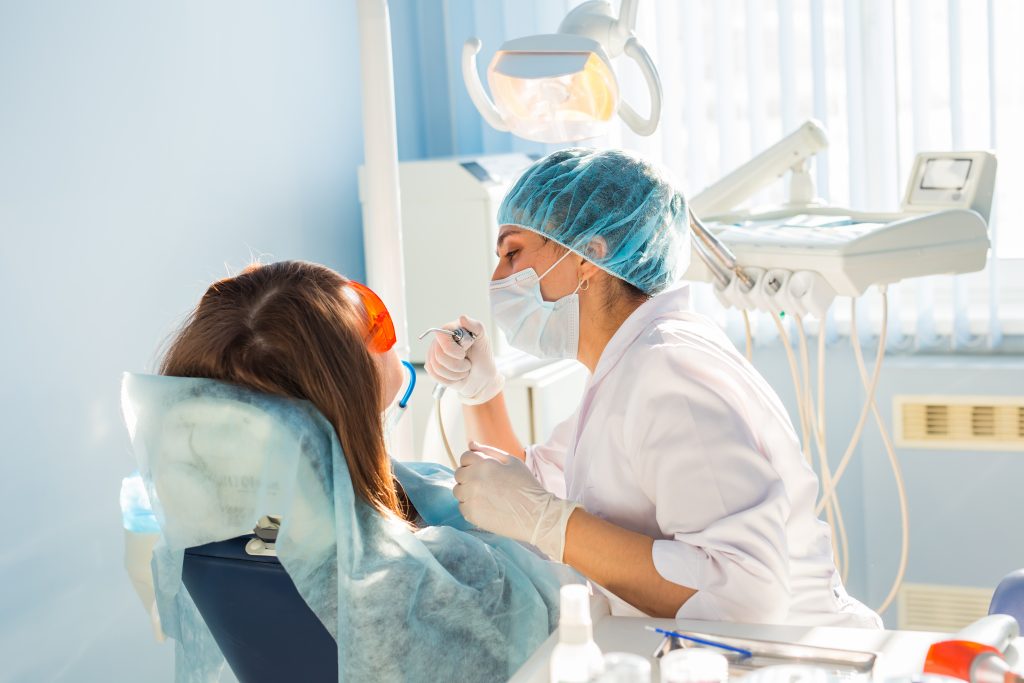 Instead, working as a dental assistant allows you to get into the field much faster. Usually within about a year. So where do you start?
With education. Becoming a dental assistant requires specific education like a legal assistant or doctor's office manager also does. Dental assistants are certified in B.C., so unlike a doctor's office manager, there are requirements that must be met and exams that must be taken prior to working in the field. Your formal education will lead you through the education you need to proceed to the testing stage.
Step 1 – Identify the right education institution for you. You'll want to find a program that combines theory (usually in-class or online seminars), lab work and practicum work in order to merge the theory form of education into real-world hands-on applications. Be sure the faculty of the program you choose has experience working in the industry (and has achieved dental assistant certification at a minimum) and is also devoted to continual learning within the field. It is essential that any instructor of a program you choose has both gone to a dental college and has worked for several years in dental assistant jobs in order to help you learn the skills required to advance in today's industry.
Step 2 – Successfully graduate from a National Dental Assisting Examination Board (NDAEB) and College of Dental Surgeons of BC (CDSBC) approved dental assisting program. Taking accredited programs doesn't guarantee graduation or even a better learning experience, but these programs are approved by the CDSBC and allow you to skip part of step 3 below. However, remember to celebrate your success! When you graduate from your program take a moment to enjoy it, but then, take the time needed to get ready for your next step.
Step 3 – Take and pass the written NDAEB exam. The exam confirms your ability to be certified by the body and this certification is a requirement to be licenced as a dental assistant in B.C. (as well as in Alberta, Saskatechewan, Ontario, Manitoba, New Brunswick, Prince Edward Island, Nova Scotia and Newfoundland and Labrador). If you choose to attend a non-accredited CDSBC program, there is another exam and step to take – that is to pass the NDEAB Clinical Practice exam. With both exams taken and passed, you're ready for step 4 in the process.
Step 4 – Register with the College of Dental Surgeons of BC. All dental assistants must be certified with CDSBC in order to practice in any dental office. In order to register, you will be required to create an online account with CDSBC, pay for the application as well as a criminal record check, submit documents as required, pay the fee for the certification and then receive your certification confirmation.
Step 5 – Become a member of the Certified Dental Assistants of BC (CDABC). While there is a fee to join this professional body and it is not a practicing requirement, it is an invaluable tool for many graduates of dental assistant school or dental hygienist school. You will find furthering education information, options for liability insurance, a specific job board and many other tools to help you advance in your career.
Step 6 – Begin your job search. Yes, you may have started your job search before you became a member of CDABC, and possibly even before you were registered with CDSBC and that's okay – so long as you are registered before you start practicing, it's fine. Besides, you want the best possible job, so starting your search early is a good thing to get to know what jobs feel right for you.
Most people who go through a dental assistant program will end up working in a private dental practice, whether that is of a single dentist, a pair or a team working in the same building under one organizational umbrella. There are also some specialty practice like orthodontic, prosthodontic, oral maxillofacial and others that may be of interest, but obviously, the number of jobs available in these specialty areas are much fewer.
According to the online job search tool Indeed, dental assistant salary ranges are from about $11 an hour up to about $35 an hour with a little over $21 an hour being the average. Obviously, higher rates of pay come for those with more experience and education as well as a fit for that particular practice.
Job opportunities are diverse and represent a range of roles within solo practices or group practices. Some jobs do require membership with the CDABC and quite a few are open to recent graduates from dental programs (who are certified and registered). The most common attribute being sought after is great communication skills and the ability to interact positively with patients.
There were 140 listings for dental assistants in Vancouver alone when Indeed was checked, so it's clear this is a growing, thriving industry in need of great people with the right skills and education. Get started on your six steps and make your way to becoming a dental assistant and loving helping people create beautiful smiles.