Fact: 1 in 5 Canadians will experience a struggle with mental health at some point during their lives. Mental illness affects not only the lives of individuals diagnosed with depression, bi-polar and obsessive compulsive disorder, just to name a few, but it also affects their friends and families.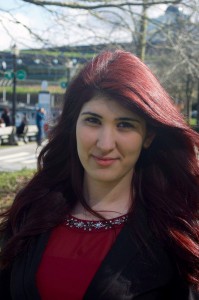 The Canadian Mental Health Association (CMHA) is a nationwide volunteer run organization founded in 1918 that provides direct assistance to over 100,000 Canadians suffering with mental illness.
Marjan Beikzadeh, Ashton's Student Services co-op student, is a regular volunteer with the CMHA and has been for a year. Marjan, a psychology major at Simon Fraser University, is passionate about ending the stigma surrounding mental health and helping generate awareness that if you are having problems, there is help available.
"I started volunteering at the CMHA because of my interest in psychology" she says. "I want to do my part in getting rid of the stigma that people have about mental health." The stigma of mental health is often just as debilitating as the disorders themselves. This is because of the deep personal shame that people tend to have about opening up and sharing their struggles with others.
"Mental health should have the same degree of attention as one's physical health. They both are crucial to one's life; however, mental health usually doesn't get the attention it needs because it is not visible to the human eye." says Marjan.
Recently, Marjan and the CMHA participated in the City of Surrey Wellness Fair, an annual public health event hosted by the Surrey public library. The event was held with the aim of generating public awareness of a variety of health concerns, including mental health. The atrium of the library was stocked with volunteer led tables and booths, each one aimed at providing answers to those with questions. "At our table we had books, pamphlets, and cards. And of course we also had people who could answer just about anything you wanted to know about mental health in Canada. It was a really great experience."
Vancouver is especially significant to the CMHA. The Downtown Eastside has some of the highest rates of mental health suffering in the entire country and for Marjan, helping those suffering on the streets starts with a dialogue. "It's easy to ignore someone or ignore their problems. Talking is hard. But talking leads to empathy and empathy leads to understanding." The statistics on mental health and the DTES are staggering: between one and three thousand residents are considered to be at an extremely high health risk due to poverty, substance abuse, and mental health related disorders. For many Vancouverites, it's an area in the city that they'd sooner avoid or worse, sweep under the rug.
"You can't just ignore it" says Marjan. "It's real, the people there are real and they need help. That's why it's so important to just get people talking."
Splitting her time between her studies, working with Ashton and volunteering with the CMHA, Marjan is a very busy individual. But she is driven to help others and she knows that by doing her part she is making a difference. Ashton is with her every step of the way.